Diagnosis, treatment and management of MDR-TB: Practitioner's Perspective- Dr. Prashant Chhajed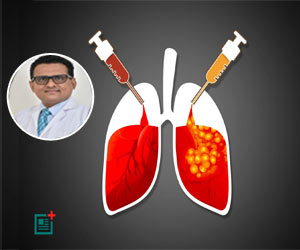 According to the World Health Organization, globally there were an estimated 558 000 (range, 483 000–639 000) incident cases of MDR/RR-TB in 2017. In India, it is estimated that 2.8% of new cases diagnosed with TB are drug-resistant tuberculosis. Individualising tuberculosis treatment to unique patient and disease situations improves outcomes in both resource-rich non-endemic settings, and in populous resource-poor endemic regions with varied and unpredictable patterns of drug resistance.
The WHO has recommended changes in the classifications of second-line antituberculous drugs in the management of drug-resistant tuberculosis. This new classification includes newer drugs like bedaquiline and delamanid. With the use of these drugs, the role of injectable antituberculous drugs can be reduced. This new classification can be implemented on a larger scale once the newer drugs are available routinely.
TB GeneXpert has become an important tool in the rapid diagnosis of tuberculosis as well as drug-resistant tuberculosis. This test can be applied to sputum specimens and also to extrapulmonary specimens such as lymph nodes specimens. Line probe assay is also an important tool in the rapid diagnosis of drug-resistant tuberculosis, particularly to check sensitivity to rifampicin, isoniazid, injectables and fluoroquinolones. Tuberculous culture by liquid media and drug sensitivity testing are also important tests which help to select drugs in the management of drug-resistant tuberculosis.
Tuberculous mediastinal lymphadenopathy is often treated empirically. EBUS TBNA (endobronchial ultrasound guided transbronchial needle aspiration) of mediastinal lymph nodes is a procedure performed under local anaesthesia and sedation which permits sampling of mediastinal lymph nodes and the samples can be routinely sent for cytology, histology, GeneXpert testing and TB culture thus permitting a pathological and rapid microbiological diagnosis of tuberculosis.
Often the microbiological diagnosis of tuberculosis may not be possible despite exhaustive testing. In such cases, treatment may need to be guided based on a clinical, radiological and pathological basis. However, for the successful treatment of drug-resistant tuberculosis, empiric treatment of tuberculosis needs to be avoided and an attempt to obtain a microbiological diagnosis should be made in all cases. Patient counselling regarding the disease, the prevention measures to be taken to spread infection, need to take regular treatment and making aware of potential side effects of medication are important aspects that need to be implemented in the management of drug-resistant tuberculosis to achieve better outcomes.
Dr Prashant Chhajed is a renowned pulmonologist and Director of the Institute of Pulmonology, Medical Research & Development and Lung Care & Sleep Centre, Fortis Hospital. He has published more than 120 scientific publications in PubMed indexed journal and has received numerous awards for his research presentations in national and international meetings.