Diagnosis of diabetes now with just a single blood sample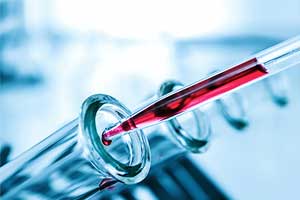 A single blood sample indicating glycated hemoglobin (HbA1c) and glucose levels can help in identification of undiagnosed diabetes, according to a new study published in the journal Annals of Internal Medicine. The results indicated that a positive result for two standard diabetes markers in a single blood sample is a highly accurate predictor of diabetes mellitus (DM) and of major diabetes complications such as kidney disease and heart disease.
The study was conducted by Elizabeth Selvin, a professor in the Department of Epidemiology at the Johns Hopkins Bloomberg School of Public Health, and colleagues to examine the prognostic performance of a single-sample confirmatory definition of undiagnosed diabetes
Type 2 DM involves a failure of the body's normal regulation of blood glucose levels. The resulting chronic elevation of blood glucose (hyperglycemia) increases the risk of other major illnesses including stroke, heart disease, kidney disease, and eye disease.
For the study, the authors examined 13 346 Atherosclerosis Risk in Communities (ARIC) participants (12 268 without diagnosed diabetes) with 25 years of follow-up for incident DM, cardiovascular outcomes, kidney disease, and mortality. Confirmed undiagnosed DM was defined as elevated levels of fasting glucose (≥7.0 mmol/L [≥126 mg/dL]) and HbA1c (≥6.5%) from a single blood sample.
Selvin and her colleagues hypothesized that positive results for both glucose and HbA1c in one blood sample might be an acceptable alternative to the current two-sample standard.
Key Results:


Among 12 268 participants without diagnosed diabetes, 978 had elevated levels of fasting glucose or HbA1c at baseline (1990 to 1992).


Among these, 39% had both (confirmed undiagnosed diabetes), whereas 61% had only 1 elevated measure (unconfirmed undiagnosed diabetes).


The confirmatory definition had moderate sensitivity (54.9%) but high specificity (98.1%) for identification of diabetes cases diagnosed during the first 5 years of follow-up, with specificity increasing to 99.6% by 15 years.


The 15-year positive predictive value was 88.7% compared with 71.1% for unconfirmed cases.


Confirmed undiagnosed diabetes was significantly associated with cardiovascular and kidney disease and mortality, with stronger associations than unconfirmed diabetes.


"The results of our study suggest that the two tests from one blood sample can provide adequate confirmation of DM, potentially allowing a major simplification of current clinical practice guidelines," says Selvin.
Current clinical guidelines recommend that an initial blood test result indicating elevated fasting levels of HbA1c be confirmed at a second doctor's visit with another blood test--a time-consuming and relatively expensive practice that may lead to missed diagnoses.
"Doctors are already doing these tests together--if a patient is obese, for example, and has other risk factors for diabetes, the physician is likely to order tests for both glucose and HbA1c from a single blood sample," Selvin says. "It's just that the guidelines don't clearly let you use the tests from that one blood sample to make the initial DM diagnosis."
Some people in the study who had positive results on only one test went on to be diagnosed with DM. Thus, Selvin emphasizes that for people with a single positive test, a repeat test in accordance with current guidelines is still appropriate.
"I'm hoping that these results will lead to a change in the clinical guidelines when they are revised in early 2019, which could make identifying diabetes a lot more efficient in many cases," Selvin says.
Even so, the study findings could lead to changes in the guidelines to make it possible for diabetes to be diagnosed more quickly based on the two positive results in one blood sample.
"A single-sample confirmatory definition of diabetes had a high positive predictive value for subsequent diagnosis and was strongly associated with clinical endpoints. Our results support the clinical utility of using a combination of elevated fasting glucose and HbA1c levels from a single blood sample to identify undiagnosed DM in the population," concluded the authors.
For further information click on the link: 10.7326/M18-0091
Source : With inputs from Annals of Internal Medicine