Diagnosis and Treatment of Biliary Cancer : GOI Guidelines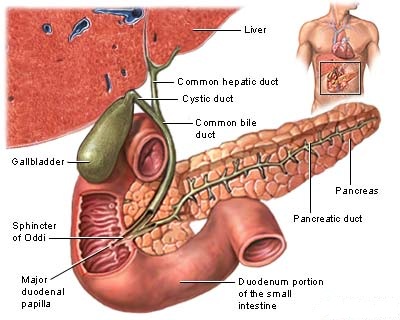 Bile duct cancer is a relatively uncommon cancer with annual incidence of 1- 2/100,000 in Western studies. Recent trends show increasing incidence probably due to better diagnostic techniques. Although biliary cancer can occur anywhere in the biliary tract, 40-60% of them involve the hilum. 90% of these tumors are well differentiated and mucin producing adenocarcinomas. The peak age for bile duct cancer is in the seventh decade and more males are affected than females. Patients usually presented with progressive jaundice, itching and weight loss.
Ministry of Health and Family Welfare, Government of India has issued the standard Treatment Guidelines for Oncology. Following are the major recommendations for Biliary Cancer;
BILIARY CANCER
Incidence of the condition in the country/Worldwide incidence of biliary cancer is about 0.01% - 0.2% in large autopsy series. However the Indian data is still awaited. Majority of the patients are elderly males over sixty years.
DIFFERENTIAL DIAGNOSIS
Majority of the patients with a hilar stricture harbor malignancy. However an alternate diagnosis is possible in 10-15% of patients. The differential diagnoses should consider gall bladder carcinoma, Mirizzi's syndrome and Idiopathic benign focal stenosis of the bile duct.
PREVENTION AND COUNSELING
Most of the cases occur sporadically and a clear cut etiological agent is not indicated in biliary tract malignancy. However, a high incidence is noted in patients with congenital biliary cystic disease (15-20%). A diagnosis of such a condition should warrant surgical treatment, so as to prevent the development of biliary malignancy in future. However, the benefit of surgery done after 20 yrs of age is questionable. Stringent measures of radiation protection is to be offered to the workers in the nuclear energy sector, since radioisotopes used commercially like Thorium, Radon etc are thought to be associated with the development of cholangiocarcinoma.
OPTIMAL DIAGNOSTIC CRITERIA, INVESTIGATIONS, TREATMENT & REFERRAL CRITERIA
The early symptoms of cholangiocarcinoma are non specific. Anorexia weight loss and pruritus are most common. 90% of the patients come to attention with painless jaundice. Clinical examination reveals jaundice and may also find enlarged firm liver.
Diagnostic criteria
Abdominal ultrasound examination which reveals dilated intrahepatic biliary radicles with a collapsed gall bladder and extrahepatic bile duct must be suspected to be a case of hilar obstruction unless proven otherwise. Possible differential diagnosis of gall bladder cancer or Mirizzi syndrome must be considered, and further evaluation must be carried out by a contrast enhanced CT scan or MRI, and the expertise of a tertiary care center taken at this stage.
Diagnosis is based on radiological criteria and pathological confirmation is not mandatory prior to surgery in resectable lesions. Histopathological proof can only be achieved by endoscopic brush cytology or EUS guided needle biopsy and is not recommended prior to resection when the lesion is deemed resectable. Histological confirmation is mandatory prior to chemotherapy or radiotherapy.
Investigations
MDCT can give valuable information regarding the level of obstruction, vascular invasion, and presence of atrophy/hypertrophy complex of liver lobes. MRCP is the investigation of choice for obtaining a cholangiogram. ERCP or PTC allows bile sampling for cytology, which is positive in about 30% of cases. Combined brush cytology and biopsy specimens increase yield to 40–70%. Negative cytology from brushings does not exclude malignancy.
Treatment
Prior radiological evaluation of resectability and patient's performance status determine the treatment. In Resectable hilar cholangiocarcinoma standard curative surgery entails hemihepatectomy with caudate lobectomy and extrahepatic bile duct excision with regional lymphadenectomy. Aggressive resections with combined portal vein resection to achieve RO resection may be considered in selected cases.
Preoperative Biliary drainage may salvage segments of hepatic parenchyma and reduce risk of postoperative liver failure. Portal vein embolization to increase the remnant liver volume in patients with postresection volumes are less than 25%.
Role of adjuvant therapy after resection remains controversial; however chemotherapy or chemo radiation may be tried 5 Unresectable tumors require endoscopic or percutaneous biliary drainage or stenting. Surgical bilio-enteric bypass may be required. Palliative Gemcitabine based chemotherapy may be considered along with supportive care.
Liver transplantation is indicated at selected centres, for patients with early stage cholangiocarcinoma and anatomically unresectable lesions, but this approach should not be offered outside the scope of clinical trials.
Optimal Standards of Treatment in Situations where technology and resources are limited;
At Secondary Hospital
Clinical Diagnosis
Cholangiocarcinoma is to be suspected in an elderly patient with symptoms of pruritus ,painless and progressive jaundice.
InvestigationsTreatment
Biliary drainage and supportive care with or without chemoradiotherapy for unresectable and metastatic disease. This condition is not however suitable for treatment at a secondary hospital, and must be referred to a tertiary care center.
Standard Operating procedure


In Patient


Out Patient


Day Care


Referral criteria
Biliary obstruction with undilated gall bladder or extrahepatic bile ducts must be regarded as hilar obstruction unless proven otherwise. These patients must be referred for evaluation and management to a tertiary care center. Patients requiring major liver resections resection or portal vein resection.
At Super Specialty Facility
Clinical Diagnosis
Cholangiocarcinoma is to be suspected in an elderly patient with symptoms of pruritus ,painless and progressive jaundice.
Investigations
MDCT, MRCP EUS, Endoscopic/Percutaneous cholangioscopy
Treatment
Hepatectomy with caudate lobectomy and excision of the extrahepatic Biliary tree with regional lymphadenectomy in resectable disease. Extended resections with portal vein resection and reconstruction where portal vein in involved. Biliary drainage and supportive care with or without chemoradiotherapy for unresectable and metastatic disease.
Standard Operating procedure


In Patient


Out Patient


Day Care


Referral criteria
Patients considered candidates for liver transplantation may be referred to transplant units
REFERENCES:


Khan SA, Thomas HC, Davidson BR, Taylor-Robinson SD. Cholangiocarcinoma. Lancet 2005; 366: 1303–1314.


Neuhaus P, Jonas S, Settmacher U et al. Surgical management of proximal bile duct cancer: extended right obe resection increases resectability and radicality. Langenbecks Arch Surg 2003; 388: 194–200.


Killeen RP, Harte S, Maguire D, Malone DE. Achievable outcomes in the management of proximal cholangiocarcinoma: an update prepared using 'evidence-based practice' techniques. Abdom Imaging 2008; 33: 54–57.


de Groen PC, Gores GJ, LaRusso NF et al. Biliary tract cancers. N Engl J Med 1999; 341: 1368–1378.


Heimbach JK, Gores GJ, Haddock MG et al. Liver transplantation for unresectable perihilar cholangiocarcinoma. Semin Liver Dis 2004; 24: 201–207.


McMasters KM, Tuttle TM, Leach SD et al. Neoadjuvant chemoradiation for extrahepatic cholangiocarcinoma. Am J Surg 1997; 174: 605–609


Laurent S, Monsaert E, Boterberg T et al. Feasibility of radiotherapy with concomitant gemcitabine and oxaliplatin in locally advanced pancreatic cancer and distal cholangiocarcinoma: a prospective dose finding phase I-II study. Ann Oncol 2009; 20: 1369–1374.


Schoppmeyer K, Miethe S, Wiedmann M et al. Radiochemotherapy followed by gemcitabine and capecitabine in extrahepatic bile duct cancer: a phase I/II trial. Am J Clin Oncol 2006; 29: 576–582.


Glimelius B, Hoffman K, Sjoden PO et al. Chemotherapy improves survival and quality of life in advanced pancreatic and biliary cancer. Ann Oncol 1996; 7: 593–600.


Eckel F, Schmid RM. Chemotherapy in advanced biliary tract carcinoma: a pooled analysis of clinical trials. Br J Cancer 2007; 96: 896–902.


Valle JW, Wasan HS, Palmer DD et al. Gemcitabine with or without cisplatin in patients (pts) with advanced or metastatic biliary tract cancer (ABC): results of a multicenter, randomized phase III trial (the UK ABC-02 trial). Proc Am Soc Clin Oncol 2009; 27: Abstr 4503.


Fuller CD, Dang ND, Wang SJ et al. Image-guided intensity-modulated radiotherapy (IG-IMRT) for biliary adenocarcinomas: initial clinical results. Radiother Oncol 2009; 92: 249–254.


Castaldo ET, Wright Pinson C. Liver transplantation for non-hepatocellular carcinoma malignancy. HPB (Oxford) 2007; 9: 98–103.


Ortner ME, Caca K, Berr F et al. Successful photodynamic therapy for nonresectable cholangiocarcinoma: a randomized prospective study. Gastroenterology 2003; 125: 1355–1363.


Zoepf T, Jakobs R, Arnold JC et al. Palliation of nonresectable bile duct cancer: improved survival after photodynamic therapy. Am J Gastroenterol 2005; 100: 2426–2430


Japanese Society of Biliary Surgery. Classification of biliary tract carcinoma. Second English edition. Tokyo: Kanehara; 2004


Takada T, Miyazaki M, Miyakawa S, Tsukada K, Nagino M, Kondo S, et al. Purpose, use, and preparation of clinical practice guidelines for the management of biliary tract and ampullary carcinomas. J Hepatobiliary Pancreat Surg 2008;15:2–6


Jarnagin WR, Fong Y, DeMatteo RP, Gonen M, Burke EC, Bodniewicz BS J, et al. Staging, resectability, and outcome in 225 patients with hilar cholangiocarcinoma. Ann Surg 2001;234: 507–17.


Nagino M, Kamiya J, Arai T, Nishio H, Ebata T, Nimura Y. "Anatomic" right hepatic trisectionectomy (extended right hepatectomy) with caudate lobectomy for hilar cholangiocarcinoma. Ann Surg 2006;243:28–32


Makuuchi M, Thai BL, Takayasu K, Takayama T, Kosuge T, Gunvén P, et al. Preoperative portal embolization to increase safety of major hepatectomy for hilar bile duct carcinoma: a preliminary report. Surgery 1990;107:521–7


Nagino M, Kamiya J, Nishio H, Ebata T, Arai T, Nimura Y. Two hundred forty consecutive portal vein embolizations before extended hepatectomy for biliary cancer: surgical outcome and long-term follow-up. Ann Surg 2006;243:364–72


Kawasaki S, Imamura H, Kobayashi A, Noike T, Miwa S, Miyagawa S. Results of surgical resection for patients with hilar bile duct cancer: application of extended hepatectomy after biliary drainage and hemihepatic portal vein embolization. Ann Surg 2003;238:84–92


Miyazaki M, Ito H, Nakagawa K, Ambiru S, Shimizu H, Okaya T, et al. Parenchyma-preserving hepatectomy in the surgical treatment of hilar cholangiocarcinoma. J Am Coll Surg 1999;189:575–83.


Nimura Y, Kamiya J, Kondo S, Nagino M, Uesaka K, Oda K, et al. Aggressive preoperative management and extended surgery for hilar cholangiocarcinoma: Nagoya experience. J Hepatobiliary Pancreat Surg 2000;7:155–62


Hemming AW, Kim RD, Mekeel KL, Fujita S, Reed AI, Foley DP, et al. Portal vein resection for hilar cholangiocarcinoma. Am Surg 2006;72:599–604.