................................ Advertisement ................................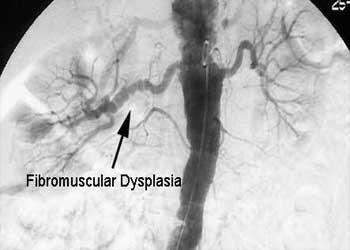 Working group 'Hypertension and the Kidney' of the European Society of Hypertension (ESH) and the Society for Vascular Medicine (SVM) have commissioned the first international consensus on the diagnosis and management of fibromuscular dysplasia (FMD). This is an update to previous consensus documents/scientific statements on FMD published in 2014 with full harmonization of the position of European and US experts.
The consensus is published in the Vascular Medicine and the Journal of Hypertension. 
FMD is a nonatherosclerotic arterial disease caused by abnormal cellular proliferation and distorted architecture of the arterial wall, primarily in the renal and extracranial carotid and vertebral arteries. Clinical signs of FMD have recently been expanded to include arterial dissection, aneurysm, and tortuosity, in addition to the classical "string of beads" (multifocal) or focal arterial stenoses. Approximately 80-90% of patients with FMD are women.
................................ Advertisement ................................
Key Recommendations:
................................ Advertisement ................................
At least one focal or multifocal arterial lesion on imaging is required to establish the diagnosis of FMD. The presence of aneurysm, dissection, or tortuosity alone is inadequate to establish the diagnosis.
Regardless of initial site of vascular bed involvement, patients with FMD should undergo brain to pelvis imaging, at least once and usually with CTA or contrast-enhanced MRA, to identify other areas of FMD, as well as to screen for occult aneurysms and dissections.
Treatment with antiplatelet therapy (aspirin 75-100 mg/day) is reasonable to prevent thrombotic and thromboembolic complications, in the absence of contraindication.
A standardized consensus-based protocol for renal angiography and angioplasty is proposed, which includes hemodynamic assessment of FMD lesions using translesional pressure gradient measurements.
According to writing committee Co-Chair and SVM President, Dr. Heather Gornik, "The coming together of international experts to outline unified, consensus-based standards of clinical care for patients with FMD and an agenda to drive future research into this important but poorly understood vascular disease was our priority. We also hope that this document will provide a single go-to source for both state-of-the-art and practice information on FMD for all clinicians, whether they practice in Europe, the United States, or anywhere in the world."
For further reference follow the link: https://doi.org/10.1177/1358863X18821816
Medha Baranwal joined Medical Dialogues as an Editor in 2018 for Speciality Medical Dialogues. She covers several medical specialties including Cardiac Sciences, Dentistry, Diabetes and Endo, Diagnostics, ENT, Gastroenterology, Neurosciences, and Radiology. She has completed her Bachelors in Biomedical Sciences from DU and then pursued Masters in Biotechnology from Amity University. She has a working experience of 5 years in the field of medical research writing, scientific writing, content writing, and content management. She can be contacted at medha@medicaldialogues.in. Contact no. 011-43720751
To know about our editorial team click here
................................ Advertisement ................................