................................ Advertisement ................................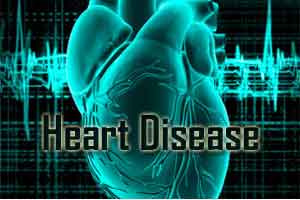 Dr.E. Dale Abel and associates of University Of Iowa Health Care has found out that excess fat around the heart can increase the risk of heart failure in people with diabetes by two to five times.The research has been published in Circulation Research journal.
According to the University Of Iowa Health Care in the U.S. researchers, excess fat in the heart, may contribute to the two- to five-fold increased risk of heart failure in people with diabetes. The heart is the most energy-hungry organ in the body. Just like a combustion engine burning fuel to power the pistons, healthy heart cells consume fuel molecules to create the necessary energy to keep the heart pumping.
This essential energy production takes place inside mitochondria, the self-contained 'powerplant' organelles inside cells. Diabetes, however, reduces the heart muscle's metabolic adaptability and causes heart cells to overuse fat as a metabolic fuel.
................................ Advertisement ................................
The study found that this cardiac lipid overload leads to numerous small, misshapen mitochondria that don't produce energy as efficiently as normal mitochondria. Previous research suggested that problems with mitochondrial energy production may play a role in heart failure associated with diabetes.
................................ Advertisement ................................
Lead study author E. Dale Abel said, "Diabetes, significantly increases the risk of heart failure, and one of the cardinal manifestations of the hearts of people with diabetes is the tendency to overuse fat as a metabolic fuel, which ultimately leads to mitochondrial and cardiac damage".
The team used genetically modified mice that mimic the increased fatty acid uptake (lipid overload) that characterizes diabetes to investigate the consequences of cardiac lipid overload on mitochondria. In the mouse model, lipid uptake to heart is doubled. This modest increase resulted in mitochondria that became thinner and more twisted than mitochondria in healthy heart cells.
These structural changes (almost like a noodle snaking through the heart) lead to an appearance of mitochondrial fragmentation when imaged by conventional electron microscopy. The study also revealed the molecular cause of the change in mitochondrial structure.
Prolonged lipid overload leads to increased levels of damaging substances called reactive oxygen species (ROS). The findings suggest that cardiac lipid overload disrupts normal mitochondrial structure, which may impair energy production and compromise heart function.
Anjali Nimesh Joined Medical Dialogue as Reporter in 2016. she covers all the medical specialty news in different medical categories. She also covers the Medical guidelines, Medical Journals, rare medical surgeries as well as all the updates in medical filed.
She is a graduate from Dr. Bhimrao Ambedkar University.
She can be contacted at editorial@medicaldialogues.in
Contact no. 011-43720751
................................ Advertisement ................................