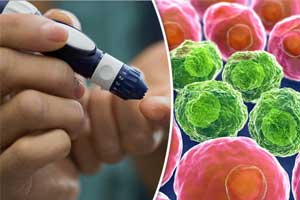 Diabetic women found more prone to cancer than diabetic men finds a new study.
Diabetic people are at higher risk of developing cancer and the increased risk is slightly greater in women as compared to men, according to a new study published in the journal Diabetologia. 
Cancer is the second leading cause of death worldwide. About 1 in 4 women and 1 in 3 men are estimated to develop cancer during their lifetime. In 2015, 17.5 million incident cases of cancer were reported that led to 8.7 million deaths globally, these figures are expected to increase in the next decades. The prevalence of diabetes is also increasing rapidly.
Previous studies have demonstrated and an association between diabetes and a risk of all-site and some site-specific cancers. And also, there is a published evidence that excess of conditions associated with diabetes such as stroke, coronary heart disease, and dementia are greater in women than men. However, there has been no systematic overview of the evidence available that sex differences may impact on the cancer risk. This study confirms that diabetes is indeed a risk factor for all-site cancer in both sexes, but shows also that the effect is stronger in women than in men, and that this increase in risk for women varies with cancer site.
Read Also: Diabetes and obesity together responsible for nearly 800,000 cancers worldwide
For the study, the authors undertook a systematic search in PubMed MEDLINE to identify reports on the links between diabetes and cancer. Selected studies reported sex-specific relative risk (RR) estimates for the association between diabetes and cancer adjusted at least for age in both sexes. Random-effects meta-analyses with inverse-variance weighting were used to obtain pooled sex-specific RRs and women-to-men ratios of RRs (RRRs) for all-site and site-specific cancers.
Data on all-site cancer was available from 47 studies, involving 121 cohorts and 19,239,302 individuals.
Key Findings:
Women with diabetes had a 27% higher risk of all-site cancer compared to women without diabetes; for men with diabetes, the risk was 19% higher than for men without.
Calculation of the women-to-men ratio revealed that women with diabetes had a 6% greater excess risk of all-site cancer compared to men with diabetes.
Data on site-specific cancer were available for 50 sites. The women-to-men ratios showed statistically significant higher risks for women with diabetes for kidney (11% higher); oral (13% higher); stomach (14% higher); and leukemia (15% higher) cancers, compared to men with diabetes.
For liver cancer, the risk for women with diabetes was 12% lower than for men with diabetes.
"Hyperglycaemia (i.e. heightened blood glucose) may have carcinogenic effects by causing DNA damage – an effect that would be potentially more pronounced in women because historically women were likely to be undertreated, receive less intensive care, or show lower adherence to antidiabetic medication compared to men," explain the authors on excess risk of all-site cancer conferred by diabetes in women
The authors further explain that because the average duration of impaired glucose tolerance or impaired fasting glucose has been found to be over 2 years longer in women, they may have more exposure to untreated hyperinsulinaemia (high levels of insulin) in the prediabetic state – hyperinsulinaemia has been found to promote cancer cell proliferation. Another factor that may impact on the lower risk ratio for all-site cancer in men may be the apparent protective effect of diabetes in prostate cancer, a type that affects men only.
"The importance of a sex-specific approach to quantification of the role of diabetes in cancer research, prevention, and treatment. Diabetes is a risk factor for all-site cancer for both women and men, but the excess risk of cancer associated with diabetes is slightly greater for women than men. Further studies are needed to clarify the mechanisms underlying the sex differences in the diabetes-cancer association," concluded the authors.
For further information follow the link: https://doi.org/10.1007/s00125-018-4664-5