Diabetes risk four times higher in women with PCOS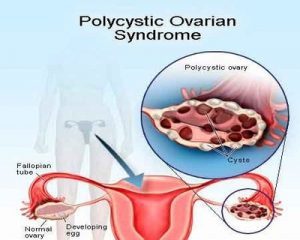 Women suffering from polycystic ovary syndrome (PCOS) are four times at greater risk of developing Type 2 diabetes (Type-2 diabetes) and are also prone to be diagnosed at an earlier age with the blood-sugar condition, according to a new study. The research was carried out by Denmark-based scientists and the findings were published in the Endocrine Society's Journal of Clinical Endocrinology & Metabolism..
According to a report of Centers for Disease Control and Prevention polycystic ovary syndrome (PCOS) is one of the leading causes of female infertility. On an estimate h up to 5 million women in United States of America are suffering from this disease.
Katrine Hass Rubin et al. examined data from the Danish National Patient Register as well as patient records from the Odense University Hospital. In total, the study looked at 19,639 premenopausal women who had been diagnosed with PCOS. Glucose, testosterone, triglycerides, and cholesterol levels of women with PCOS were compared with healthy controls. In the study for one woman with a PCOS diagnosis, three other age-matched PCOS-free women were randomly selected from the Danish National Patient Register. The researchers adjusted for other potential risk factors for type 2 diabetes, such as age, body mass index (BMI), the use of oral contraceptives, and the number of times the women had given birth.
It was found that average age for women without PCOS and diagnosed with Type-2 diabetes is 35 years whereas in women with PCOS, diabetes is diagnosed four years earlier i.e. by age of 31 years, the researchers said
The increased risk of developing T2D [type 2 diabetes] in PCOS is an important finding [...] Diabetes may develop at a young age and screening for diabetes is important, especially in women who are obese and have PCOS." said one of the researchers Dorte Glintborg from Odense University Hospital in Denmark.
Further, body mass index, insulin and glucose levels, and triglycerides were positively associated with development of Type-2 diabetes, whereas a higher number of births were negatively associated with the development of Type-2 diabetes, the researchers said.
Polycystic ovary syndrome (PCOS) is a hormonal disorder common among women of reproductive age. Women with PCOS may have infrequent or prolonged menstrual periods or excess male hormone (androgen) levels. The ovaries may develop numerous small collections of fluid (follicles) and fail to regularly release eggs. The exact cause of PCOS is unknown. Early diagnosis and treatment along with weight loss may reduce the risk of long-term complications such as type 2 diabetes and heart disease.
For more details click on the link: https://doi.org/10.1210/jc.2017-01354