Indian Doctors release Guidelines for management of Diabetes during Fasting in JAPI, Details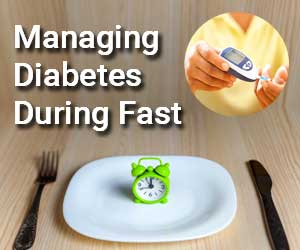 New Delhi: Patient with diabetes should break their fast if their blood sugar level drops below 70 mg/dL or when complications develop, suggested the recent Indian guidelines on the management of diabetes during fasting and feasting, published in the Journal of Association of Physicians of India (JAPI). The authors also stated that in such scenarios the SGLT-2 inhibitors should be cautiously used in elderly and frail patients due to their volume contraction, infection and dehydration effects.
Religious festivals are significant times for many of us. Most religious festivals involve feasting often preceded by fasting, endurance tests or penance which poses potential health risks as they may disturb the normal metabolic activity of the body leading to a number of chronic diseases such as high blood sugar or diabetes.
In a country like India which has a population of around 1.3 billion people with different ethnicity, food habit, and culture and having the highest number of diabetic population in the world, a guideline exclusively crafted for the people of India is the need of the hour.
Keeping this in a view, a team of Indian doctors including endocrinologists and diabetologists has developed guidelines for the management of diabetes during fasting and feasting which aims to provide Indian specific recommendations. The experts extensively reviewed the literature, shared their practical knowledge and arrived at a consensus.
The team conducted an extensive review of literature available through different search engines such as PubMed, Google Scholar, and Cochrane library databases in order to find out the best possible evidence and quality studies for management of diabetes during festivals.
The authors divided the patients into four risk categories which include very high-risk patients, high-risk patients, low-risk patients, and very low-risk patients. Furthermore, the guidelines have emphasized practices such as patient monitoring, consideration of diabetes complications, Pre-fast medical assessment/counseling, structured diabetes education, management of Type 1 Diabetes Mellitus, T1DM, management of Type 2 Diabetes Mellitus (T2DM), nutrition plan, proper use of blood sugar lowering drugs such as metformin, sulfonylureas and among others.
Considering all these practices the experts have come up with the following recommendations


Patient with diabetes should break their fast if the blood glucose level is <70 mg/dL (3.9 mmol/L) or >300 mg/dL (16.7 mmol/L) or when complications develop.


Patients with stable T2DM can undergo fasting safely; however, their frequency and dose of medications need to be adjusted or modified.


Metformin can be safely used during fasting, however, some dose modification might be required.


Hypoglycemia or low blood sugar is the major concern associated with SUs. However, gliclazide in this class has the lowest risk of hypoglycemia and CV complications with higher glycaemic efficacy. Moreover, owing to its low cost, gliclazide can be widely used in the Indian population during the fasting period.


DPP-4 inhibitors like vildagliptin and sitagliptin can be used during fasting; however higher cost might restrict their use in Indian population.


The SGLT-2 inhibitors should be cautiously used in elderly and frail patients due to their volume contraction, infection and dehydration effects.


Thiazolidinedione and alpha-glucosidase inhibitors can be safely used; however weight gain and GI upset are the respective complications that indicate treatment individualization.


GLP-1 receptor analogs can be used safely during fasting because of their weight loss effect and low risk of hypoglycemia, however, high cost, GI side effects, and injectable nature reduces their applicability, especially during fasting.


Insulin requires dose modification during the fasting period. Patients who are using insulin should be strictly monitored for hypoglycaemic complications.


Structured diabetes education should be planned for patients with diabetes along with their family members in order to observe a safe fasting


To read the full guidelines, click on the link
Management of Diabetes during Fasting and Feasting in India- Banshi Saboo1, Shashank Joshi2, Siddharth N Shah3, Mangesh Tiwaskar4, Vijay Vishwanathan5, Sudhir Bhandari6, Sujit Jha7, Tirthankar Chaudhary8, SR Arvind9, Rajeev Chawla10, Sanjay Kalra11, Dhruvi Hasnani12