Diabetes increases risk of fractures in those who are frail, finds study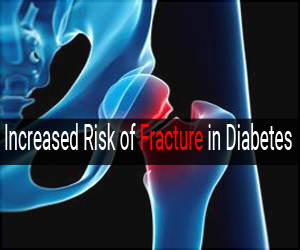 Diabetes increases the risk of fractures in those who are frail, according to a new study. Frailty in type 2 diabetes patients escalades fragility fracture associated risk. Therefore evaluation of frailty status can improve fracture risk assessment and management in diabetes. The findings of the study have been published in Diabetes Care.
Frailty (a condition of being physically weak) exposes a person to a spectrum of adverse health outcomes.
Guowei Li PhD, MBBS, MSc, associate director of the Center for Clinical Epidemiology and Methodology at Guangdong Second Provincial General Hospital in China in collaboration with McMaster University in Hamilton, Ontario, Canada, conducted a study with 3,149 participants (mean age, 65.1 years; 69.9% women) from the Canadian Multicentre Osteoporosis Study. The researchers recruited adults aged at least 25 years from nine centres in Canada from 1995 to 1997.
Of the total cohort, 138 participants had diabetes and 3,011 did not. All participants had physical examinations at baseline, 5 years and 10 years to determine height and weight and underwent DXA at the lumbar spine and hip, to determine bone mineral density. A follow-up questionnaire was sent annually to ascertain fracture incidents, hospitalizations and the use of bone health medications. The researchers also measured frailty status by way of an established frailty index, which followed a scale of 0 to 1, with scores closer to 1 indicating increased frailty.
Higher mean frailty index scores were reported in the 138 participants with diabetes compared with the 3,011 participants without, equating to a mean frailty index difference of 0.05. In addition, 25.4% of participants with diabetes presented with a fragility fracture compared with 19.1% of the group without diabetes.
To know more about this study please click on the link below