Despite available effective gout treatment, opioids still over prescribed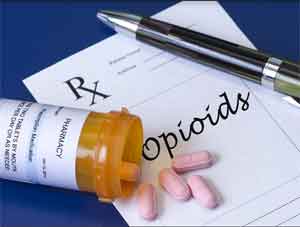 USA: Gout patients commonly receive opioids prescription after their discharge from the emergency department (ED), finds a recent study. This occurs despite the availability of effective treatments for gout.
Findings of the study, published in the journal Arthritis Care & Research, highlights an opportunity to curb the opioid epidemic among gout patients. The opioid epidemic generally refers to a rapid increase in the use of nonprescription and prescription opioid drugs in the U.S, beginning in the late 1990s.
Acute gout is one of the most painful inflammatory arthritis and is a common cause of visits to the emergency department. The prescription opioid is the leading contributor to the ongoing opioid epidemic; ED is often the source of the index prescription. Deepan S. Dalal, Department of Medicine at Brown University Warren Alpert School of Medicine, and colleagues conducted the study to assess the burden of opioid use and factors associated with its use among gout patients discharged from the ED.
For the study, the researchers analyzed data from the Lifespan electronic health records system to assess the frequency in which the patients received opioids, as well as the dose and duration of therapy. The factors associated with increased odds of opioid prescription at discharge among patients with acute gout were ascertained using the multivariable logistic regression.
Also Read: Use opioids cautiously for short duration in osteoarthritis
Key findings of the study include:


Out of the 456 patients, 129 (28.3%) received opioids at discharge; approximately 80% were new.


79% (102/129) of patients who received an opioid prescription at discharge were not taking an opioid medication prior to their ED presentation.


The most commonly prescribed opioid was reported to be oxycodone.


The average dose of opioids prescribed at discharge was 37.9±17.2mg of morphine equivalent; the median duration was 8 days (interquartile range: 5, 14).


Patients who experienced a polyarticular gout attack had diabetes, and those who utilized opioids prior to hospital admission were more likely to receive an opioid prescription at discharge.


Also Read: Despite readily available treatment, gout remains under-treated, finds study
"We have a number of medications that can treat acute gout effectively, almost completely eliminating the need to use opioids. The fact that 28% of patients are being treated with opioids, and much longer than 2 weeks, is alarming and provides an opportunity to reduce the burden of prescription opioids," said Dr Dalal.
To read the complete study log on to
https://doi.org/10.1002/acr.23928