Depression Screening: 9 Questions All Doctors must ask their patients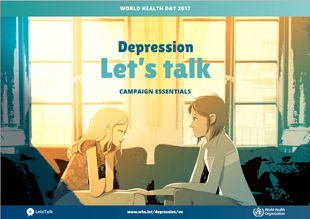 In the recent times, depression has emerged as the 4th largest cause of mortality in the world, only after CAD, hypertension, Diabetes. According to the World Health Organization (WHO), 350 million people worldwide suffer from depression.In fact, it has emerged as the second leading cause of death among 15-29-year olds. Projections indicate that depression may be the second leading cause of life lost after heart disease by 2020.
Depression screening is becoming an important part of doctors practice. It is assumed 1 in 20 Indians is living with depression, as reported by the National Mental Health Survey (2015-16). That makes it around 5 crore Indians suffering from depression
While treatment of depression is indeed a domain of Psychiatrists, or psychologists, severe shortage of these specialists in the country mandates that other practitioner have to play an important role in helping in early diagnosis and intervention to fight this growing menace.
Dr Rajesh Goyal, President, Delhi Psychiatric Society said, " Depression is very common in chronic diseases including heart disease and cancer. It therefore becomes important that medical practitioners should take special care in identifying depression while treating the primary disease in such cases. "
In a seminar organised by Medical Dialogues Team on this year's theme of WHO day, Dr Goyal apprised a large gathering of doctors of central Delhi that in simple words, depression could be either Reactive or Endogenous. The former isa result of undesirable/unexpected events in the life of an individual to which he cannot cope up with. The latter is caused by a chemical disturbance in the brain. Whatever the type of depression, the disease is treatable with the medicines available. It is most important that, all practitioners, whether a General practitioner or a specialist should address this issue at the earliest
"While psychiatrist use many scores such as HAM D and Becks Depression Inventory (BDI), there are many other simpler scores also available such as PHQ-9 that can be used by General practitioners to enable them to assess the severity of depression amoungst their patients," said Dr Saumya Mudgal, Consultant Psychiatrist, Sanjeevan Hospital.
The PHQ9 which was designed by Drs Spitzer, Williams and Kroenke with an educational grant from Pfizer, contains series of 9 questions on which doctors can score their patients from 0-3 on each questoins.
| | | | | |
| --- | --- | --- | --- | --- |
| Over the past 2 weeks, how often have you been bothered by any of the following problems? | Not At all | Several Days | More than half the days | Nearly Every Day |
| 1.Little interest or pleasure in doing things | 0 | 1 | 2 | 3 |
| 2.Feeling down, depressed or hopeless | 0 | 1 | 2 | 3 |
| 3. Trouble falling asleep, staying asleep, or sleeping too much | 0 | 1 | 2 | 3 |
| 4.Feeling tired or having little energy | 0 | 1 | 2 | 3 |
| 5.Poor appetite or overeating | 0 | 1 | 2 | 3 |
| 6.Feeling bad about yourself- or that you're a failure or have let yourself or your family down | 0 | 1 | 2 | 3 |
| 7.Trouble concentrating on things, such as reading the newspaper or watching television | 0 | 1 | 2 | 3 |
| 8. Moving or speaking so slowly that other people could have noticed. or, the opposite- being so fidgety or restless that you have been moving around a lot more than usual | 0 | 1 | 2 | 3 |
| 9.Thoughts that you would be better off dead or of hurting yourself in some way | 0 | 1 | 2 | 3 |
Interpretation of Total Score
| | |
| --- | --- |
| Total Score | Depression Severity |
| 1-4 | Minimal depression |
| 5-9 | Mild depression |
| 10-14 | Moderate depression |
| 15-19 | Moderately severe depression |
| 20-27 | Severe depression |
You can understand the full score by clicking on the following link