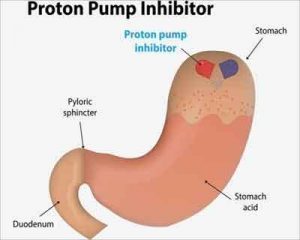 Proton pump inhibitors are a group of drugs whose main action is a pronounced and long-lasting reduction of gastric acid production.
Canadian Family Physician,  the official journal of the college of Family Physicians of Canada has recently  issued guidelines on Deprescribing proton pump inhibitors. Following are its major recommendations
Definitions of PPI deprescribing
Deprescribing can include stopping, stepping down, or reducing doses
Stopping can be done either via abrupt discontinuation or a tapering regimen
Stepping down involves abrupt discontinuation or tapering of the PPI followed by prescription of an H2RA (any H2RA at any approved dose and dosing interval according to the drug monograph).
Reducing includes the following subcategories:
-Intermittent PPI use, which is defined by the Canadian Consensus Conference as "daily intake of a medication for a predetermined, finite period (usually two to eight weeks) to produce resolution of reflux-related symptoms or healing of esophageal lesions following relapse of the individual's condition"
-On-demand PPI use, which is defined by the Canadian Consensus Conference as "the daily intake of a medication for a period sufficient to achieve resolution of the individual's reflux-related symptoms; following symptom resolution, the medication is discontinued until the individual's symptoms recur, at which point, medication is again taken daily until the symptoms resolve"
-Lower dose, which is a reduction from a standard dose to a maintenance dose
H2RA—histamine-2 receptor antagonist, PPI—proton pump inhibitor.
Following are the major recommendations
NOTE
The recommendations apply to adults who have completed a minimum 4-week course of PPIs for upper GI symptoms. The evidence base mainly relates to patients with GERD or esophagitis but can be extrapolated to other upper GI disorders for which the efficacy of PPIs is more modest or for which short-term use is usually recommended (eg, stress ulcer prophylaxis, peptic ulcer disease) and therefore deprescribing is likely to be more effective. The recommendations do not apply to those who have or have had Barrett esophagus, severe esophagitis grade C or D, or documented history of bleeding GI ulcers.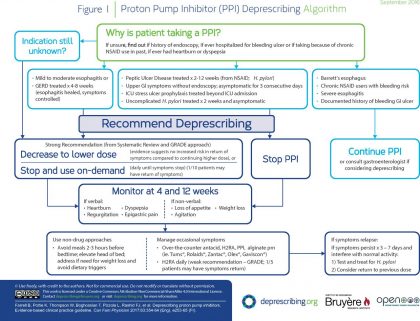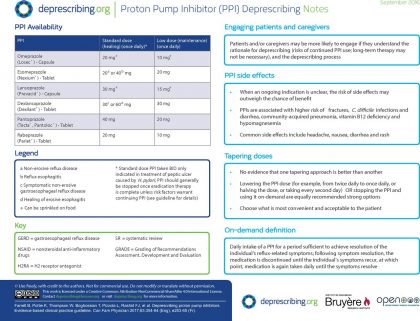 Recommendations
For adults (>18 y) with upper GI symptoms, who have completed a minimum 4-wk course of PPI treatment, resulting in resolution of upper GI symptoms, we recommend the following:
Decrease the daily dose or stop and change to on-demand (as needed) use (strong recommendation, low-quality evidence).
Alternatively, guideline suggest the following:
Consider an H2RA as an alternative to PPIs (weak recommendation, moderate-quality evidence)
GI—gastrointestinal, H2RA—histamine-2 receptor antagonist, PPI—proton pump inhibitor.
2. For those with mild to moderate GERD or upper GI symptoms who have no ongoing symptoms, lowering the dose of a PPI does not lead to significantly greater relapse compared with continuing at a standard dose. Lowering the PPI dose was believed to have greater benefit than harm owing to a lack of evidence of harm, the potential to reduce costs, and the potential to reduce the risk of rare PPI side effects and drug interactions. Both on-demand therapy and stepping down to H2RA therapy increase the risk of symptom relapse more so than lowering the dose does. However, on-demand use is associated with lower pill burden and cost, which might be desirable to patients.
Based on a lack of evidence of serious harm from deprescribing, the evidence for the benefits of reducing inappropriate PPI use in terms of pill burden and reduced risk of side effects, the high societal cost of inappropriate PPI use, and the feasibility of a PPI deprescribing intervention, guideline rated the recommendation to lower the dose or switch to on-demand PPI use as strong. The recommendation to step down to H2RA therapy was rated as weak owing to the higher risk of symptom return.
To read the full guideline, click on the following link : http://www.cfp.ca/content/63/5/354.long