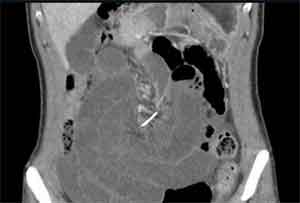 A recently published interesting case in the online journal BMJ Case reports, has cited a case, where doctors have have removed a dental brace wire from a woman's bowel, which was assumed to have been there for the past 10 years.
A dental brace wire was found in a woman's bowel after 10 years. It was only discovered after she was admitted to hospital following two days of worsening stomach pain, explain doctors in the online journal BMJ Case Reports.
The case  is that of a 30-year-old woman  who had come  to the emergency department ofat Sir Charles Gairdner Hospital in Nedland ( Australia) complaining of  severe pain  in abdomen since 2 days . Her abdomen was peritonitic.
Doctors assumed her to have biliary colic, even though ultrasound and hepatobiliary iminodiacetic acid scans were normal. Laboratory studies were normal. A scan showed that the wire had pierced several parts of the small bowel, causing the intestine to twist around on itself a condition known as a volvulus.
Reporting the case in BMJ, the doctors reported that the patient underwent an emergency laparotomy which discovered mid–small bowel ischaemia from a band adhesion related to the perforation of a 7 cm piece of orthodontic wire. The wire penetrated through the small bowel and the small bowel mesentery and to another loop of the mid–small bowel. This had formed an axis around which the volvulus developed. Adhesiolysis was performed but no bowel resected.
The 30 year old said that she had not worn a dental brace for a decade, and didn't remember having swallowed the wire or having lost it.
You can read the article by clicking on the following link
http://casereports.bmj.com/content/2017/bcr-2017-221152.full