Dengue vaccine- where are we heading?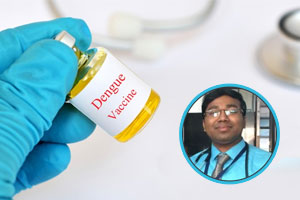 To develop a safe and effective vaccine against dengue was always going to be a difficult task due to the complex interaction between dengue viruses and the human immune system.
There are 4 distinct, but closely related, serotypes of the dengue virus (DENV) that cause dengue (DENV-1, DENV-2, DENV-3, and DENV-4) Each serotype is capable of causing the full spectrum of disease starting from asymptomatic infection to life-threatening disease. But a primary infection (first infection) with any serotype rarely leads to a severe form of the disease. After the primary infection, the long-term protection is induced against that serotype, but only short-term protection against the remaining serotypes.
When a person is infected with DENV second time with a different serotype, there is a major risk for developing severe dengue due to the presence of sub-neutralizing immunity to the previous virus, by a phenomenon known as antibody-dependent enhancement (ADE). Fortunately, a severe form of dengue is uncommon with third and fourth DENV infections.
Dengvaxia®, Sanofi-Pasteur's, first tetravalent live attenuated vaccine completed Phase 3 clinical trial. The vaccine is given in three doses 6 months apart. The vaccine showed only moderate efficacy and a suggestion of enhanced disease in previously dengue-naïve recipients and/or those under 9 years old. In 2016, WHO recommended vaccination in those over 9 years old and in areas of 'high burden' of disease. However, in November 2017 additional analyses and ongoing surveillance showed that there was an enhancement of disease occurring in dengue-naïve vaccine recipients in the trials. In April 2018, WHO recommended a 'pre-vaccination screening strategy' for dengue vaccine, i.e. testing of all potential vaccine recipients for anti-dengue antibody so that only dengue-seropositive individuals are vaccinated.
These serological test to detect past infection need a high degree of sensitivity, specificity and should be cost-effective. The things may be complicated as few viruses like Japanese encephalitis and Zika virus can cross-react with dengue, leading to interference with the sensitivity and specificity of these tests.
Therefore more time and effort needed to develop safe and effective vaccination strategies that take into account the potential for ADE. There must be a clear and transparent programme of Dengue vaccination otherwise it will be perceived in the general public as unsafe.
To read more log on to
https://academic.oup.com/trstmh/advance-article/doi/10.1093/trstmh/try070/5054658
and
https://www.nejm.org/doi/full/10.1056/NEJMoa1800820
Dr. Monojit Mandal is a consultant Pediatrician and is working under Prof. (Dr.) Asok Kumar Datta, Head of the Department of
Paediatrics, Burdwan Medical College & Hospital.
Source : Journal