Delhi scientist develops software for 3D, interactive viewing of CT/MRI scans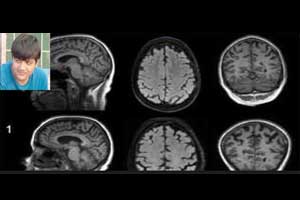 Virtual reality is the term used to describe a three-dimensional, computer-generated environment which can be explored and interacted with by a person.The radiological images of MRI an CT scans are viewed only in two dimensions on computer screens as of now.IIIT-D final year B.Tech student Palash Bansal at Indraprastha Institute of Information Technology has developed a new application which will make it possible to view CT and MRI images in a virtual reality environment through a software application.
Explaining the outcome of his project, Bansal told PTI, "We have been able to take high-quality photos of the human body through MRI and CT scans for decades. These images enabled doctors to perform less invasive diagnostics on patients in less amount of time."
"With the development of computer science and technology, we are now able to even reconstruct three-dimensional models of the scans through complex algorithms and color them. But, these systems have many limitations now," he said.
"They can only work in labs and the scans can only be visualized on a computer screen that is 2D in nature, thereby depriving us of using both our eyes to perceive the depth," Bansal said.
Bansal said his application RealVol, which would soon be incorporated, has taken this technology several steps ahead, enabling a person to see the same CT/MRI images in a Virtual Reality environment with complete 3-dimensional perception.
The concept of virtual reality took off in foreign countries two years ago and grew interested in it, said Bansal adding he took it up because it was widely known that medical imaging is a big problem.
"After working for a few days I released a very basic version of the application, exploring a dental scan, on YouTube. After this, I started getting mails from a lot of people saying they would really like to use this and it has tremendous potential," he said.
"That's when I decided to develop this full time and get this deployed in India as good technology always takes a lot of time to come to India. And medical technology, even more," Bansal said.
Working on it for over one and half years now under the guidance IIIT-Delhi's Prof Ojaswa Sharma, Bansal said his project aims at helping schools and medical colleges teach anatomy and pathology to trainee doctors, performing surgical simulations apart from diagnostics.
"This would be a completely new experience for patients who don't know about radiology and would like to view themselves as realistically as possible. The experience is so interactive and clear that one can learn anatomy from this in minutes, that would otherwise take days or maybe even weeks with traditional methods," he said.
Bansal said he has developed both desktop and mobile versions of the application and a user needs to have appropriate hardware devices to use the technology.
"RealVol also supports cheap mobile device headsets where it is possible to view a complete Virtual Reality view and perform some basic interactions with it. Since simple mobile VR headsets like Google Cardboard can be developed at a very low cost, this is a ground-breaking innovation for medical classrooms where multiple students see what the instructor is experiencing in the Desktop headset setup," he said.
"Furthermore, these mobile scans can be taken home, e-mailed, shared on social media etc and referred to whenever someone wants's to consult it," he added.
Source : With inputs PTI