Delhi hospital treats Iraqi girl with rare disease-Spinal arteriovenous malformation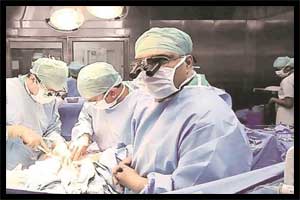 Doctors at a Delhi Hospital have successfully treated a 19-year-old Iraqi girl Nuha Mohanad Hani who was suffering from a rare spinal disease, spinal arteriovenous malformation (AVM).
Spinal arteriovenous malformation (AVM) is a rare spinal disease, which is an abnormal tangle of blood vessels on, in or near the spinal cord constituting 3-4% of all spinal cord space occupying lesions). If unrecognized and left untreated, it may result in a major neurological disability within a short span of time after the onset of initial symptoms. A substantial improvement in the imaging technology and in super-selective catheterization has generated considerable success in the diagnosis and management of these rare lesions.
She reported to the hospital with progressive quadriplegia for over a month. She also suffered from urine and stool incontinence.
"On re-evaluation of history, we found out that she had an injury two months back, followed by quadriplegia and breathing issues. She took treatment for this in her country but did not respond well to it and her condition kept on worsening," said P.N. Renjen, Senior Consultant, Neurology, Indraprastha Apollo Hospital.
The patient's repeated MRI C-Spine revealed that she had longitudinally extensive hematomyelia (blood in the spinal cord) with a central cord lesion (C7-D1).
Through her DSA angiography reports, the doctors discovered that she had spinal AVM along with C7-D1 as the cause of hematomyelia.
"We performed DSA with Embolisation of spinal AVM along with C7-D1 on her. She responded well to the treatment and was discharged within few days after the surgery," Renjen said.
Recent Studies suggest that particle embolization as a first line therapy to treat spinal cord AVMs is safe and offers long-term efficacy, especially for those with small, distal, and multiple shunts. Partial occlusion of the AVM may be sufficient to prevent rebleeding, without the potential risks of complete occlusion. Particle calibration and injection technique, 'one by one', are critical to safety. Cyanoacrylate embolization or surgery remains necessary if particle embolization fails to occlude large shunts.
Source : Press Release