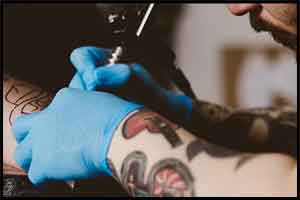 Decorative tattooing is associated with acute complications, such as pain, infection, and hypersensitivity. Delayed reactions also occur, including regional lymphadenopathy that may masquerade as malignant disease. Presented below is a case of tattoo pigment–induced lymphadenopathy that mimicked lymphoma.The case has been published in Annals of Internal Medicine.
A 30-year-old woman presented to our clinic reporting a 2-week history of bilateral axillary lumps noted on self-examination. She had no fever, night sweats, weight loss, or pulmonary symptoms. She had a history of cluster headaches and had previously had breast augmentation surgery at age 19 years. Her only medication was an oral contraceptive pill. She was a nonsmoker with no relevant family history. On examination, numerous rubbery nontethered nodes up to 1.5 cm in diameter were felt in both axillae, with no other palpable lymphadenopathy. Her chest was clear to auscultation, and no hepatosplenomegaly was present. A large black-ink tattoo that had been present for 15 years covered her back. Another black-ink tattoo on her left shoulder was 2.5 years old.The clinical and radiologic features of the case fitted into diagnosis of lymphoma.
But when one of the nodes was removed to be examined, it was found that it was not only enlarged, but also discolored and  the blackened node had no cancer cells. Finally it was concluded that what was being observed  was a reaction to the dye used in the woman's tattoos.The patient got her first tattoo on her back 15 years earlier and she got inked a second time two-and-a-half years before the swollen nodes developed.
The literature on tattoo reactions has mention of similar cases in which reactions to ink  took as long as 30 years to occur. And some doctors had mistaken the swollen lymph nodes as indicative of melanoma.The new report, however, was the first case in which scans had been done that backed up a diagnosis of cancer — which is why the woman had surgery to have a lymph node removed for examination. When doctors saw the blackened node they realized what had happened.
For more details click on the link :
http://annals.org/aim/article/2656481/tattoo-pigment-induced-granulomatous-lymphadenopathy-mimicking-lymphoma