Deep Neck Space Infection - GOI Standard Treatment Guidelines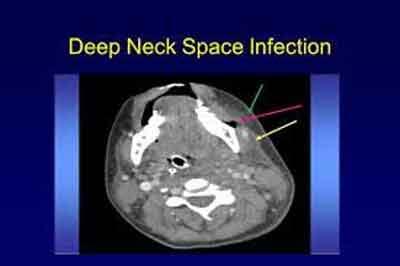 Ministry of Health and Family Welfare, Government of India has issued the Standard Treatment Guidelines for Deep Neck Space Infection. Guidelines were prepared by Dr. J M Hans Ex-HOD Dept. of Otorhinolaryngology Dr.RML Hospital New Delhi.
Deep neck space infections most commonly arise from a septic focus of the mandibular teeth, tonsils, parotid gland, deep cervical lymph nodes, middle ear, or sinuses. Deep neck space infections often have a rapid onset and can progress to life-threatening complications. Thus, clinicians must be aware of such infections and should not underestimate their potential extent or severity.
Following are the major recommendations:
Spaces :
Submandibular space
Parapharyngeal space
Retropharyngeal space
Prevertebral space
Peritonsillar space
Parotid space
Potential routes of spread — The deep cervical fascial spaces are normally bound together by loose connective tissue and intercommunicate to varied degrees. A thorough understanding of the potential anatomic routes of infection not only provides valuable information on the nature and extent of infection but also suggests the optimal surgical approach for effective drainage.
Clinical Features


Peritonsillar, parotid, parapharyngeal, and submandibular abscesses are generally associated with sore throat and trismus (the inability to open the jaw). Trismus indicates pressure or infection of the muscles of mastication (the masseter and the pterygoids) or involvement of the motor branch of the trigeminal nerve. Findings on physical examination include swelling of the face and neck, erythema, and purulent oral discharge. There may be pooling of saliva in the mouth and asymmetry of the oropharynx. Lymphadenopathy is usually present.


Dysphagia and odynophagia are secondary to inflammation of the cricoarytenoid joints.


Dysphonia and hoarseness are late findings in neck infections and may indicate involvement of the tenth cranial nerve


Unilateral tongue paresis indicates involvement of the twelfth cranial nerve.


Stridor and dyspnea signify airway obstruction and may be manifestations of local pressure or spread of infection to the mediastinum.


Investigation
Imaging
Computed tomography (CT) is the imaging modality of choice for the diagnosis of deep neck space infections. CT allows the critical evaluation of soft tissues and especially bone from a single exposure. In addition, the axial imaging format of CT is particularly well suited to the head and neck. Because CT can localize a process and define its extent, particularly extension into the mediastinum or the cranial vault, it is also an invaluable tool for planning and guiding aspiration for culture or open drainage.
Magnetic resonance imaging (MRI) is useful for assessing the extent of soft tissue involvement and for delineating vascular complications. However, MRI takes significantly longer than CT to obtain good quality images, which may cause discomfort or claustrophobia. In addition, individuals with certain implanted devices cannot undergo MRI.
Plain radiography is of limited utility for the evaluation of deep neck space infections; it is sometimes helpful for detecting retropharyngeal swelling or epiglottitis
Treatment
Appropriate antibiotics in conjunction with surgical drainage of loculated infection are essential for a successful outcome of deep neck space infections
Source : Press Release