Daylight photodynamic therapy effective option for Actinic keratoses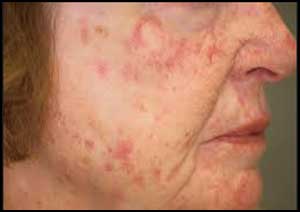 Daylight photodynamic therapy (DLPDT) is a safe and effective therapy, which could help in selecting the most appropriate therapeutic method for treating actinic keratoses (AKs) and in guiding physicians to optimize treatment strategies, reports a study published in the International Journal of Dermatology. Daylight vs conventional photodynamic therapy significantly increased patient satisfaction and reduced pain.
Zhao W and associates conducted a study to evaluate the safety and efficacy of DLPDT in treating patients with AKs as compared to conventional photodynamic therapy (CPDT).
The investigators searched the data for relevant randomized controlled trials (RCTs) in PubMed, EMBASE, Web of Science, and the Cochrane Central Register of Controlled Trials. The complete response rate, patient satisfaction, and patient-reported pain after intervention with DLPDT or CPDT were primarily measured. The researchers identified 8 randomized controlled trials, including 424 adult patients with actinic keratoses treated with DLPDT vs CPDT.
Read Also: A New treatment option for Seborrheic Keratosis
Key study findings:


No significant difference was found between the lesion response rate and the mean lesion response in a comparison of DLPDT and CPDT treatments.


Generally, DLPDT was associated with higher patient satisfaction than CPDT.


The patients who underwent DLPDT experienced less pain than those who underwent CPDT.


No statistical evidence of publication bias among studies was found under all comparisons.


An actinic keratosis (AK), also known as a solar keratosis, is a crusty, scaly growth caused by damage from exposure to ultraviolet (UV) radiation. These growths are more common in fair-skinned people and those who are frequently in the sun.
For reference log on to 10.1111/ijd.14211