Day time nap in excess of adequate night sleep increases CVD risk : Study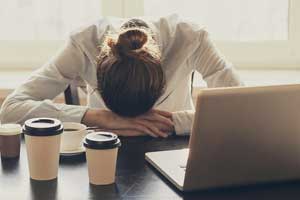 Sleep is essential to human health, however, taking a nap during daytime can increase your risk of major cardiovascular events and deaths, especially in those with >6 h of nighttime sleep but not in those sleeping ≤6 h/night, reveals a new study.
The study of 116,632 people from 21 countries published in the European Heart Journal, further finds that estimated total sleep duration of 6 to 8 hours daily is associated with least risk of major cardiovascular events and deaths.
Chuangshi Wang, the McMaster University, Canada, and Peking Union Medical College, Beijing, and colleagues conducted the study to investigate the association of estimated total daily sleep duration and daytime nap duration with deaths and major CV events.
An analysis from the PURE study estimated total daily sleep time, considering both overnight sleeping and daytime naps, in more than 116,000 participants from around the world over a follow-up of about 8 years. The researchers looked at data from the PURE cohort study, which involved people 35 to 70 years of age from 21 countries with different income levels.
Participants initially filled out standardized questionnaires that assessed demographic characteristics, socioeconomic status, lifestyle behaviors, personal and family disease history, and medication use. Included were questions about day and night-time sleeping.
Key Findings:


A total of 7342 participants either died or had a major CV event during a median follow-up of 7.8 years.


Participants with an estimated sleep duration of 6 hours per day or less had a higher body mass index (BMI) and waist-to-hip ratio, were less likely to consume alcohol and were more likely to have diabetes.


A larger number of participants who slept less than 6 hours or more than 8 hours reported symptoms of depression and at least one health condition.


The median estimated total sleep duration per day in the population was 8.0 hours. Participants with an estimated sleep duration of 6 to 8 hours per day had the lowest incidences of all outcomes.


Less than 6 hours or more than 8 hours of sleep per day was associated with a higher risk for major CV events, alone or as a composite of all-cause mortality, after adjustment for age, sex, and center.


Mortality risk was significantly elevated in those with longer sleep durations; in those with shorter sleep duration, the risk was elevated, but not significantly.


Although the risk associations were "moderately attenuated" in the fully adjusted models, the researchers still found a J-shaped relation between estimated total sleep duration and each of the three outcomes. It was consistently observed in regions where daytime napping is common and where it is less common.


The association for longer estimated sleep duration was only slightly attenuated when the researchers adjusted for BMI, physical activity, and diet.


The results were similar in sensitivity analyses that excluded participants with disabilities, prevalent diseases, sleep apnea, sleep disorders, and shift workers, the analysis showed.


With stratification by estimated nocturnal sleep duration (≤6 or >6 hours per night), the association between naps and increased risk for outcomes was observed only in those who slept at least 6 hours per at night, and not in those with a shorter duration of nocturnal sleep.


"Daytime napping could represent a risk marker of subclinical non-diagnosed CV disease or may even expose to higher CV risk, particularly in those with adequate sleep duration during the night. In those with short nocturnal sleep, daytime napping may be a compensatory mechanism and might be beneficial," Dominik Linz, the University of Adelaide and Royal Adelaide Hospital, Adelaide, Australia, and colleagues write in a related editorial.
For further reference follow the link: https://doi.org/10.1093/eurheartj/ehy695
Source : With inputs from European Heart Journal