Daily Tofacitinib controls Rheumatoid Arthritis symptoms and limits structural damage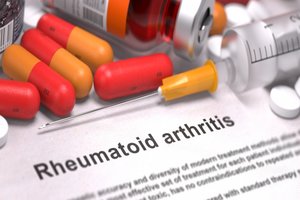 Daily Tofacitinib not only controls Rheumatoid Arthritis symptoms but also limits structural damage in RA.
According to new study results, Tofacitinib is a safe and effective combination therapy for patients with active rheumatoid arthritis who do not achieve adequate responses with methotrexate, Tofacitinib is an oral JAK inhibitor and its addition as a daily regimen can help patients control their rheumatoid arthritis and limit structural damage. The article has been published in Arthritis & Rheumatology.
The researchers conducted the study to analyze the patient response, including structural damage progression, safety, and efficacy of tofacitinib-methotrexate combination therapy in individuals who don't respond well to methotrexate monotherapy.
They randomized 539 patients to receive tofacitinib 5 mg twice daily, 10 mg twice daily, a placebo switched to 5 mg twice daily, or a placebo switched to 10 mg twice daily. They used the American College of Rheumatology criteria to determine condition improvement and assessed disease activity in 28 joints.
According to findings, responses were similar between all patients receiving 5 mg and 10 mg tofacitinib therapy. These patients maintained condition improvement and uninterrupted low disease activity or remission during the 12-to-24 month observation period. Additionally, based on radiographs, these tofacitinib patients, including those who switched from placebo, also saw no new erosions and experienced minimal progression of structural damage.
While adverse events were common during the study timeframe, affecting approximately 87 percent of tofacitinib patients, the problems were mild-to-moderate, researchers said. Runny nose, upper respiratory infection, headache, urinary tract infections, bronchitis, and shingles occurred most frequently.
The researchers concluded that clinical and radiographic treatment effects are sustained in months 12-24 in patients with RA receiving tofacitinib 5 mg or 10 mg twice daily plus MTX. The safety profile is consistent with that of other tofacitinib studies.
Overall, investigators said, the study results were similar to existing data that examines tofacitinib use over 12 months, demonstrating tofacitinib's safety and tolerability profile through 24 months.
"Our findings indicate that clinical and radiography treatment effects are sustained in months 12 to 24 in patients with rheumatoid arthritis receiving tofacitinib 5 mg or 10 mg twice daily plus methotrexate," said study author Carol Connell, Ph.D., Pfizer's senior director of clinical research. "The safety profile is consistent with that of other tofacitinib studies."
For more details click on the link:
doi: 10.1002/art.40803