Daily intake of green leafy vegetables protects liver health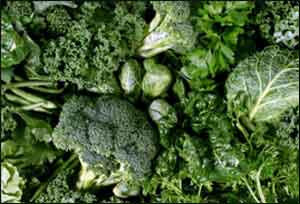 Daily intake of green leafy vegetables reduces the risk of developing liver disease. The study published in the journal Proceedings of the National Academy of Sciences (PNAS) has reported that green leafy vegetables help prevent nonalcoholic fatty liver disease in mice.
NAFLD is extremely common and represents a major risk factor for the development of more serious liver disease, including steatohepatitis, fibrosis, and cirrhosis.
Read Also: Green Leafy Vegetables causes of less dementia
A number of large clinical trials designed to identify effective treatments for nonalcoholic steatohepatitis are in progress but till date, no agent has yet received approval by the Food and Drug Administration.
The study was conducted to find if dietary intervention with a high intake of nitrate-rich vegetables or a nitrate salt would be of clinical value to treat or prevent fatty liver disease in humans.
The researchers from Karolinska Institutet investigated the therapeutic effects of dietary nitrate, which is found in high levels in green leafy vegetables, on liver steatosis associated with metabolic syndrome.
The investigators divided the mice into three groups and fed each of them a different diet. The control group received a normal diet, while the high-fat diet group ate the equivalent of a Western diet, and the third group received a high-fat diet with nitrate supplementation.
The study showed that dietary inorganic nitrate preserves metabolic and cardiovascular function and markedly attenuates liver steatosis in mice with diet-induced metabolic syndrome. The favorable effects of nitrate on the development of steatosis occurred despite the similar accumulation of fat mass. Moreover, the mice that received the nitrate had lower blood pressure and better insulin sensitivity than those on a high-fat diet without nitrate.
Read Also: Magnesium rich nuts, green leafy vegetables may reduce risk of heart disease and diabetes
The study concluded that dietary nitrate attenuates oxidative stress and preserves liver AMPK activity in a mouse model of cardiometabolic dysfunction, with salutary effects on cardiovascular and metabolic function.
The authors envisioned to conduct clinical trials to clarify if dietary nitrate supplementation could be useful in the prevention and treatment of T2D and its complications.
For full information log on to https://doi.org/10.1073/pnas.1809406115
Source : With inputs from the journal PNAS