Daily aspirin use reduces COPD morbidity: SPIROMICS Study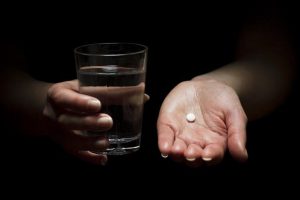 USA: Regular aspirin use is associated with reduced rate of COPD exacerbation, better quality of life and less shortness of breath, according to an analysis of the ongoing SPIROMICS study.
Aspirin use COPD has been shown to be associated with reduced all-cause mortality in previous studies. However, the effect of aspirin on COPD morbidity is not known. The newly published investigation in the journal CHEST is among the first to examine the impact of daily aspirin therapy on respiratory morbidity in COPD.
The analysis by Ashraf Fawzy, Division of Pulmonary and Critical Care Medicine, Johns Hopkins School of Medicine, Baltimore, Maryland, and colleagues, included COPD patients in SPIROMICS who self-reported daily aspirin use at study entry, 45% of the 1,698 study participants. Acute exacerbations of COPD were prospectively determined through quarterly structured telephone questionnaires for up to 3 years and categorized as moderate (symptoms treated with antibiotics or oral corticosteroids) or severe (requiring an emergency department visit or hospitalization).
Aspirin users were matched 1:1 with non-users based on propensity score, which resulted in 503 participant-pairs. The association of aspirin use with total, moderate, and severe acute COPD exacerbation was investigated using zero-inflated negative binomial models. Linear or logistic regression were used to investigate the association with baseline respiratory symptoms, quality of life, and exercise tolerance.
Key Findings:


At 3 years follow-up, aspirin users were less likely to have acute COPD exacerbations compared with non-users, with a similar effect seen for moderate acute COPD exacerbations.


The association was strongest among study participants reporting symptoms of chronic bronchitis at enrollment.


The reduced incidence of total and moderate acute COPD exacerbations among aspirin users was independent of concurrent respiratory or cardiovascular medication use and robust when analyzing the entire follow-up period, limiting the analysis to the first year of follow-up, and across all sensitivity analyses.


Aspirin use was also associated with lower total scores on the St. George Respiratory Questionnaire reduced odds of moderate-to-severe dyspnea, score ≥2 on the modified Medical Research Council Questionnaire; and lower COPD Assessment Test scores.


No difference was observed between groups in 6-minute walk distance.


The researchers noted that aspirin has several systemic and local pulmonary mechanisms of action that could explain the findings, including "inactivation of platelets and reduced inflammation," among them.
"A urinary metabolite of thromboxane A2, which is secreted by activated platelets, has been shown to be elevated among patients with COPD and represents the pathway irreversibly blocked by aspirin. Persistent systemic elevation of inflammatory markers interleukin-6 and CRP may represent a systemic inflammatory phenotype of COPD which are attenuated by aspirin in other patient populations," the researchers wrote.
The authors concluded that a randomized study is needed to determine whether daily aspirin use is protective against COPD exacerbations. "Prospective randomized clinical trials of aspirin use are warranted to explore its potential effect in reducing COPD morbidity," they wrote.
For further reference follow the link: https://doi.org/10.1016/j.chest.2018.11.028
Source : With inputs from CHEST