Daily Aspirin Fails in Primary Prevention of heart attack : ARRIVE Trial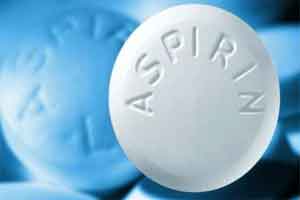 A daily dose of 100 mg of Aspirin was not found effective in reducing the long-term risk for cardiovascular (CV) or cerebrovascular events, according to the results of a trial presented at ESC Congress 2018 and published in the journal Lancet.
Michael Gaziano and his associates conducted ARRIVE study to assess the efficacy and safety of aspirin versus placebo in patients with a moderate estimated risk of a first cardiovascular event.
ARRIVE is a randomized, double-blind, placebo-controlled, multicentre study which included participants aged 55 years (men) or 60 years (women) and older who had an average cardiovascular risk, deemed to be moderate on the basis of the number of specific risk factors. Patients at high risk of gastrointestinal bleeding or other bleeding, or diabetes were excluded.
Read Also:Low dose Aspirin ineffective in CVD Prevention in high body-size patients : Lancet
Patients were randomly assigned (1:1) to receive enteric-coated aspirin tablets (100 mg) or placebo tablets, once daily. The primary endpoint was time to the first occurrence of a composite of cardiovascular death, myocardial infarction, unstable angina, stroke, and transient ischaemic attack. Safety endpoints were hemorrhagic events and incidence of other adverse events.
Key study findings:


The primary endpoint occurred in 269 (4.29%) individuals in the aspirin group versus 281 (4.48%) in the placebo group.


In the per-protocol analysis, which assesses events only in a compliant subset of the study population, the primary endpoint occurred in 129 (3.40%) participants of the aspirin group versus 164 (4.19%) in the placebo group.


In the per-protocol analysis, aspirin reduced the risk of total and nonfatal myocardial infarction.


The relative risk reduction of myocardial infarction in the aspirin group was 82.1%, and 54.3% in the 50-59 and 59-69 age groups, respectively.


Gastrointestinal bleedings, which were mostly mild, occurred in 61 (0.97%) individuals in the aspirin group versus 29 (0.46%) in the placebo group.


Drug-related adverse events were more frequent in the aspirin (16.75%) compared to placebo (13.54%) group, the most common being indigestion, nosebleeds, gastro-oesophageal reflux disease, and upper abdominal pain.


The study concluded that the decision to use aspirin for protection against cardiovascular disease should be made in consultation with a doctor, considering all the potential risks and benefits.
"Participants who took aspirin tended to have fewer heart attacks, particularly those aged 50-59 years, but there was no effect on stroke. As expected, rates of gastrointestinal bleeding and some other minor bleedings were higher in the aspirin group, but there was no difference in fatal bleeding events between groups,"write the authors.
For reference log on to
https://www.thelancet.com/journals/lancet/article/PIIS0140-6736(18)31924-X/fulltext
Source : With inputs from the journal The Lancet