Focused cardiac ultrasonography may rule out diseases but not good for confirmation of diagnosis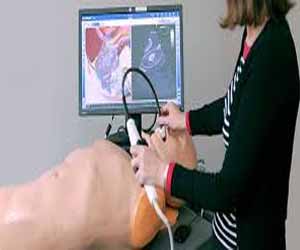 Focused cardiac ultrasonography using a hand-held device may rule out some cardiac diseases but not good for confirmation of their diagnosis.
Focused cardiac ultrasonography (FoCUS) has greater sensitivity, but not greater specificity for the identification of left ventricular dysfunction and aortic or mitral valve disease, according to a recently published study in the journal Annals of Internal Medicine.
This would mean that FoCUS may be more useful in ruling out cardiovascular pathology in some patients. But it would not be sufficient for definitive confirmation of cardiovascular disease suspected on physical examination.
"For best utilization of FoCUS in clinical practice, the clinicians should understand the inherent limitations of FoCUS," write the authors.
Incorporating FoCUS into clinical examination could improve the diagnostic yield of bedside patient evaluation as inaccuracy of physical examination is a long-recognized issue in the clinical setting.
Jeffrey A. Marbach, University of Ottawa Heart Institute, Ottawa, Ontario, Canada, and colleagues reviewed 9 published studies to compare the accuracy of FoCUS-assisted clinical assessment versus clinical assessment alone for diagnosing left ventricular dysfunction or valvular disease in adults having cardiovascular evaluation.
Key findings include:


The sensitivity of clinical assessment for diagnosing left ventricular dysfunction (left ventricular ejection fraction <50%) was 43%, whereas that of FoCUS-assisted examination was 84%.


The specificity of clinical assessment was 81%, and that of FoCUS-assisted examination was 89%.


The sensitivities of clinical assessment and FoCUS-assisted examination for diagnosing aortic or mitral valve disease (of at least moderate severity) were 46% and 71%, respectively.


Both the clinical assessment and the FoCUS-assisted examination had a specificity of 94%.


"Hand-held ultrasonography could be the fifth pillar of the physical examination and improve the accuracy of bedside diagnosis, but caution that its effectiveness is limited by the skills and expertise of the clinician," Nir Flint and Robert J. Siegel from Cedars-Sinai Medical Center, Los Angeles, California, write in an accompanying editorial.
They suggest that incorporating hand-held ultrasonography in the primary care setting, where the majority of echocardiograms are ordered, could greatly improve downstream work-up and cost-effectiveness.
To read the complete study log on to
DOI:

10.7326/M19-1337