CREDENCE Trial Unfolds the Potential of SGLT2 inhibitor Canagliflozin for Indian Type 2 Diabetes Mellitus patients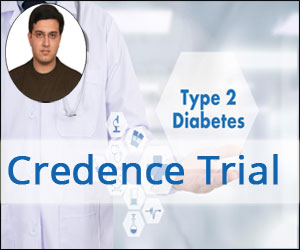 SGLT2 Inhibitor Canagliflozin becomes the first therapy in 15 years that has been demonstrated to slow down the progression of CKD in patients with Type 2 Diabetes Mellitus.
Diabetic kidney disease (DKD) develops in approximately 40% of patients with type 2 diabetes and is the leading cause of chronic kidney disease (CKD) worldwide. India has an estimated 72.9 million individuals living with diabetes, clearly indicating that the burden of Diabetic Kidney Disease in our country is humongous.
End Stage Renal Disease (ESRD) is an important and growing cause of premature adult mortality in India, driven by the rising prevalence of poorly controlled diabetes. There is poor access to dialysis and transplantation that is certainly not commensurate with the large and rising burden of renal disease.
The burden of Diabetic Kidney Disease in India
In India, diabetes nephropathy is a major cause for the development of CKD.


4 out of 10 patients with diabetes suffer from kidney disease, and 6 out of 10 incidences of ESRD are attributed to diabetic nephropathy.


Approximately 220000 new patients are being diagnosed with ESRD every year, that calls for an additional demand of 34 million dialysis sessions.


The mean survival of a patient on haemodialysis due to diabetic nephropathy is less than 3 years in India.


The Health Economic Burden of Dialysis
7 out 10 patients with ESRD feel financially burdened by dialysis-related costs. The monthly direct and indirect expenses related to dialysis are estimated to be about INR 22,000 to 32,000 across various settings. These direct costs include dialysis procedure, consultations, laboratories, medications while indirect costs comprise of transport, work hour loss of the patient and their family member involved in care.
Renal Transplantation in India – Dark Cloud with no silver Lining!!
The prevalence of ESRD requiring transplantation in India is estimated to be between 151 and 232 per million population. Thus, on an average of these figures is taken, it is estimated that almost 220,000 people require kidney transplantation in India. Against this, currently, approximately 7500 kidney transplantations are performed at 250 kidney transplant centres in India. Around 9 out of 10 patients die because of the inability to afford care.
CREDENCE Trial with Canagliflozin – A new dimension in diabetes kidney disease
In the latest scientific breakthrough, Canagliflozin becomes the first therapy in 15 years that has been demonstrated to slow down the progression of CKD in patients with T2DM. CREDENCE outcomes demonstrate a 30% lower relative risk of the primary outcome (ESRD, doubling of the serum creatinine level, or renal or cardiovascular death) with Canagliflozin in comparison to the placebo. With the emergence of such evidence, Canagliflozin becomes the first and only oral antidiabetic agent, with proven efficacy in slowing the progression of kidney disease. These results add a new dimension to the potential of Canagliflozin as a nephroprotective agent that could be helpful in retarding the progression of CKD in T2DM patients, thus marking a whole new era which will set a new benchmark towards the management of T2DM.