Corticosteroids therapy for sepsis: New Clinical guideline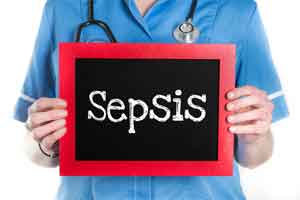 The guideline which appeared in the journal BMJ suggests that the intravenous corticosteroid treatment for sepsis is reasonable either to use or withhold. This guideline is based on a systematic review of 42 randomized controlled trials involving 10194 participants comparing corticosteroids with no corticosteroids in adults and children with sepsis. The panel makes a weak recommendation to give corticosteroids to people with all types and severity of sepsis, based on new evidence. The panel suggests that patients' values and preferences may guide this decision-making process. The guideline was formulated by the panel comprising physicians from multiple disciplines, nurses, sepsis survivors, family caregivers, and trial-design experts.
Sepsis is a life-threatening organ dysfunction from infection. Currently, most guidelines advise against giving corticosteroids in sepsis in the absence of refractory shock. Clinicians typically manage sepsis with early, broad-spectrum antibiotics. They may provide supportive treatment such as vasoactive drugs and mechanical ventilation. It is possible that corticosteroids help improve the dysregulated immune response caused by sepsis and increase blood pressure if it is low.
This rapid recommendation was triggered by two trials, with differing conclusions whose results might change practice:


ADRENAL (3658 patients who had septic shock) found no statistically significant difference in 90-day mortality between the hydrocortisone and placebo groups.


APROCCHSS (1241 patients who had septic shock) found that hydrocortisone plus fludrocortisone reduced 90-day mortality.


Most of the RCTs used hydrocortisone alone, others used hydrocortisone plus fludrocortisone, methylprednisolone, prednisolone, or dexamethasone.
Guidelines
Mortality
Corticosteroids may reduce mortality in the first month after admission to an intensive care unit (ICU) by approximately 2%. However, the panel had low certainty that this is true as the results were inconsistent, with some RCTs showing a mortality reduction and others showing none.
The effect on longer-term mortality (from 60 days to 1 year) was similar. Fewer studies reported this outcome, so, although the results were consistent in the RCTs that did report this outcome, the panel also had low certainty that corticosteroids reduce longer-term mortality.
Quality of life
No RCT reported quality of life outcomes at any time point.
Outcomes of some interest
Corticosteroids may reduce the length of ICU and hospital stay by less than a day each (moderate-quality evidence). The impact of corticosteroids on other patient-important outcomes such as stroke and myocardial infarction was extremely uncertain. They may increase the risk of neuromuscular weakness by a small amount (low-quality evidence from seven RCTs). Possible explanations include the toxic effects on nerve and muscle cells and hyperglycemia from corticosteroid use. Weakness may compromise patients' ability to function independently and delay recovery.
Read Also:Sepsis care within an hour associated with reduced mortality in children: JAMA
Evaluations of neuromuscular weakness, especially in RCTs that relied on investigator identification, were unreliable. The panel, therefore, believed that the RCTs probably underestimated the risk of neuromuscular weakness.
Outcomes of less importance
Corticosteroids probably increase the risk of hyperglycemia and hypernatraemia. Corticosteroids probably improve organ function at day 7 and the chance of shock reversal at day 7.
Patient subgroups
There was no meaningful difference in the efficacy of corticosteroids in different groups of patients including those with septic shock, pneumonia, acute respiratory distress syndrome, or other sources of sepsis, or those who were sicker. However, the absolute reduction in mortality from corticosteroids will be greater in patients with a higher risk of death. The absolute harm (such as neuromuscular weakness) will also be greater in sicker patients.
Patient values and preferences
Fully informed patients who place a higher value on avoiding death than on the quality of life and function would be more likely to choose to receive corticosteroids. As per the patient partners, most patients will want to reduce their risk of death, even if this reduction is small and uncertain.
The typical hydrocortisone dose for an adult in the RCTs was 200-300 mg/day, given either as an infusion or as boluses every six hours. If an infusion is chosen, a bolus of 50-100 mg can be given before the infusion. In the RCTs, the duration of treatment was typically 7-14 days, or less for those who were rapidly improving.
Inflammation may recur after discontinuing corticosteroid therapy, especially when it is stopped abruptly.
The guidelines suggest that clinicians should carefully monitor all patients after discontinuing corticosteroids. In patients who deteriorate after stopping corticosteroids (such as the development of shock or need for mechanical ventilation), reinitiating corticosteroid therapy could be helpful, although this is highly speculative.
For reference log on to https://doi.org/10.1136/bmj.k3284