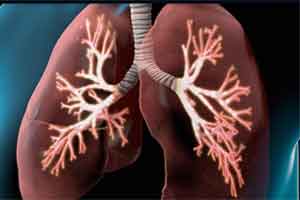 This Executive Summary of the Global Strategy for the Diagnosis, Management, and Prevention of COPD, Global Initiative for Chronic Obstructive Lung Disease (GOLD) 2017 report focuses primarily on the revised and novel parts of the document. As before, the guidelines recommend evaluation for COPD in individuals with a history of risk factors or with dyspnea, chronic cough, or sputum production, using a postbronchodilator FEV1/FVC < 0.70 cutoff for diagnosis. In addition to family history, risk factors from childhood include low birthweight and childhood respiratory infections. Other risk factors include exposure to tobacco smoke, home cooking or heating fuels smoke, and occupational dusts, vapors, fumes, gases, and other chemicals
The most significant changes include:
(1) the assessment of chronic obstructive pulmonary disease has been refined to separate the spirometric assessment from symptom evaluation. ABCD groups are now proposed to be derived exclusively from patient symptoms and their history of exacerbations;
(2) for each of the groups A to D, escalation strategies for pharmacologic treatments are proposed;
(3) the concept of deescalation of therapy is introduced in the treatment assessment scheme;
(4) nonpharmacologic therapies are comprehensively presented;
(5) the importance of comorbid conditions in managing chronic obstructive pulmonary disease is reviewed.
The guidelines also include :
Greater emphasis on use of combined bronchodilators as first-line therapies.
A thorough review of nonpharmacologic treatment options
Receiving influenza and pneumococcal vaccinations to decrease the risk for lower respiratory tract infections.
The most important aspect of any treatment plan remains smoking cessation, and pulmonary rehabilitation remains highly beneficial.
Pulmonary rehabilitation is a comprehensive intervention based on thorough patient assessment followed by patient-tailored therapies (e.g., exercise training, education, self-management interventions aimed at behavior changes to improve physical and psychological condition and promote adherence to health-enhancing behaviors in patients with COPD)
The following two tabs change content below.
Dr. Kamal Kant Kohli
A Medical practitioner with a flair for writing medical articles, Dr Kamal Kant Kohli joined Medical Dialogues as an Editor-in-Chief for the Speciality Medical Dialogues. Before Joining Medical Dialogues, he has served as the Hony. Secretary of the Delhi Medical Association as well as the chairman of Anti-Quackery Committee in Delhi and worked with other Medical Councils of India. Email: drkohli@medicaldialogues.in. Contact no. 011-43720751
Latest posts by Dr. Kamal Kant Kohli (see all)