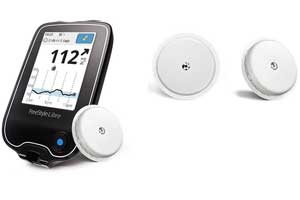 Guardian Connect continuous glucose monitor has been granted approval by the FDA.Manufactured by Medtronic it's intended for diabetes patients between 14 and 75 years of age that tend to get multiple daily insulin injections.The new and interesting aspect is that the system uses predictive algorithms to let patients know of high chances for unwanted events. Medtronic says that sometimes the system provides up to an hour's warning and that in a study, 98.5 percent of hypoglycemic events were alerted by the system.
A small wireless device, the Guardian Sensor 3, is attached to the skin, which takes regular blood samples to test for sugar levels, transmitting the readings to the patient's smartphone. The Guardian Connect App can be used to access the latest and all the previous readings, and to understand trends in relation to one's activities and eating habits. When glucose levels go beyond pre-defind limits, the app can sound alerts and send out messages to family and caretakers. The physician can access the data via Medtronic's CareLink system, which compiles the readings into charts and reports.
People using the Guardian Connect system will also have exclusive access to the groundbreaking Sugar.IQ(TM) smart diabetes assistant, empowering them to further address the daily challenges of diabetes. With artificial intelligence technology from IBM Watson Health, the Sugar.IQ assistant continually analyzes how an individual's glucose levels respond to their food intake, insulin dosages, daily routines, and other factors3. Together with the Guardian Connect system, the Sugar.IQ assistant can turn difficult-to-determine patterns into personalized, actionable insights that help people with diabetes keep glucose levels in their target range.
"Despite proven benefits and advances in technology, only a minority of insulin-using people with diabetes currently use continuous glucose monitors (CGM)" said Dr. Timothy Bailey, director of the AMCR Institute and clinical associate professor, University of California, San Diego. "Newer sensors paired with intelligent algorithms that help to both predict and understand glucose excursions, particularly hypoglycemia, will make diabetes safer and more comprehensible for people who inject insulin. Greater utilization of smarter CGM systems promises to allow our patients to achieve more glycemic time-in-range and to further reduce the risk of hypoglycemia."