................................ Advertisement ................................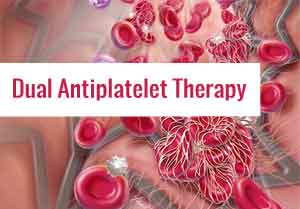 No increased risk of bleeding if DAPT continued during orthopaedic surgery, finds a study appearing in the Chinese Medical Journal. Usually, dual antiplatelet therapy (DAPT) has to be discontinued prior to most non-cardiac surgeries due to fear of the elevated risk of bleeding during surgery or in the postoperative period.
After PCI or angioplasty, all patients need to undergo dual antiplatelet therapy (DAPT) of Aspirin and clopidogrel for at least 6 weeks to 12 months after stent implantation to prevent the risk of life-threatening stent thrombosis. This continuation of  DAPT  during noncardiac surgery may increase the risk of severe bleeding at the surgical site.
Dr San-Bao Hu at Department of Orthopaedics, Beijing Anzhen Hospital, Capital Medical University, Beijing 100029, China and associates conducted a study to assess the risk of bleeding in patients with continued DAPT during orthopaedic surgery.
................................ Advertisement ................................
The clinical data of 78 patients with coronary heart disease who underwent orthopedic surgery from February 2006 to July 2018 were retrospectively analyzed. Prior to orthopaedic surgery, DAPT was continued in 16 patients (group I), 24 patients were treated with single antiplatelet therapy (group II), and 26 patients received low-molecular-weight heparin therapy for more than 5 days after the discontinuation of all antiplatelet therapies (group III). Twelve patients were excluded, as they had undergone minimally invasive surgery such as transforaminal endoscopy and vertebroplasty. The perioperative blood loss of each patient was calculated using Nadler's formula and Gross' formula. The intraoperative bleeding volume, total volume of intraoperative bleeding in addition to postoperative drainage, and total blood loss were compared between groups. The level of significance was set at P < 0.05.
It was found that there were no significant differences between the three groups in age, intraoperative bleeding volume, total volume of intraoperative bleeding in addition to postoperative drainage, and total perioperative blood loss calculated by Nadler's formula and Gross' formula (all P > 0.05). Six patients experienced postoperative cardiovascular complications due to the delayed restart of antiplatelet therapy; one of these patients in group III died from myocardial infarction.
................................ Advertisement ................................
The researchers concluded that continued DAPT or single antiplatelet treatment during orthopedic surgery does not increase the total intraoperative and perioperative bleeding compared with switching from antiplatelet therapy to low-molecular-weight heparin. However, the discontinuation of antiplatelet therapy increases the risk of serious cardiac complications.
For further reference log on to :
DOI: 10.1097/CM9.0000000000000186,PMID: 30958436
Dr Kamal Kant Kohli-MBBS, DTCD- a chest specialist with more than 30 years of practice and a flair for writing clinical articles, Dr Kamal Kant Kohli joined Medical Dialogues as an Editor-in-Chief for the Speciality Medical Dialogues section. Besides writing articles, as an editor, he proofreads and verifies all the medical content published on Medical Dialogues including those coming from journals, studies,medical conferences,guidelines etc.
Before Joining Medical Dialogues, he has served at important positions in the medical industry in India including as the Hony. Secretary of the Delhi Medical Association as well as the chairman of Anti-Quackery Committee in Delhi and worked with other Medical Councils in India. Email: editorial@medicaldialogues.in. Contact no. 011-43720751
To know about our editorial team click here