Consumption of high fiber ,whole grains lowers chronic disease risk: Lancet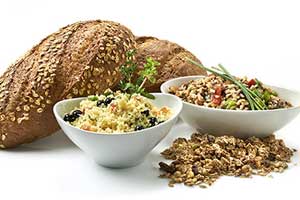 New Zealand: Greater consumption of whole grains and dietary fiber is associated with lower risks for several noncommunicable diseases, according to a Lancet meta-analysis. The links for low glycaemic load and low glycaemic index diets, however, are less clear.
Previous systematic reviews and meta-analyses explaining the relationship between carbohydrate quality and health have usually examined a single marker and a limited number of clinical outcomes. Jim Mann, Department of Medicine, the University of Otago, New Zealand, and colleagues aimed to more precisely quantify the predictive potential of several markers, to determine which markers are most useful, and to establish an evidence base for quantitative recommendations for intakes of dietary fibre.
Observational studies and clinical trials conducted over nearly 40 years reveal the health benefits of eating at least 25g to 29g or more of dietary fiber a day, according to a series of systematic reviews and meta-analyses.
The researchers included 185 observational studies containing data that relate to 135 million person-years and 58 clinical trials involving 4,635 adult participants. They focused on premature deaths from and incidence of coronary heart disease, cardiovascular disease, and stroke, as well as incidence of type 2 diabetes, colorectal cancer, and cancers associated with obesity: breast, endometrial, oesophageal and prostate cancer.
Also Read: Dietary fiber protects against obesity and metabolic syndrome, study finds
Key Findings:


Observational data suggest a 15–30% decrease in all-cause and cardiovascular-related mortality, and incidence of coronary heart disease, stroke incidence and mortality, type 2 diabetes, and colorectal cancer when comparing the highest dietary fiber consumers with the lowest consumers Clinical trials show significantly lower body weight, systolic blood pressure, and total cholesterol when comparing higher with lower intakes of dietary fiber.


Risk reduction associated with a range of critical outcomes was greatest when the daily intake of dietary fiber was between 25 g and 29 g.


Dose-response curves suggested that higher intakes of dietary fiber could confer even greater benefit to protect against cardiovascular diseases, type 2 diabetes, and colorectal and breast cancer. Similar findings for whole grain intake were observed.


Smaller or no risk reductions were found with the observational data when comparing the effects of diets characterized by low rather than higher glycaemic index or load.


The certainty of evidence for relationships between carbohydrate quality and critical outcomes was graded as moderate for dietary fiber, low to moderate for whole grains, and low to very low for dietary glycaemic index and glycaemic load. Data relating to other dietary exposures are scarce.


Also Read: Its Confirmed- Intake of whole grains can prevent you from diabetes
"Our findings provide convincing evidence for nutrition guidelines to focus on increasing dietary fiber and on replacing refined grains with whole grains. This reduces incidence risk and mortality from a broad range of important diseases."
The authors only included studies with healthy participants, so the findings cannot be applied to people with existing chronic diseases.
For every 8g increase of dietary fiber eaten per day, total deaths and incidences of coronary heart disease, type 2 diabetes and colorectal cancer decreased by 5-27%. Protection against stroke and breast cancer also increased. Consuming 25g to 29g each day was adequate but the data suggest that higher intakes of dietary fibre could provide even greater protection.
"The health benefits of fiber are supported by over 100 years of research into its chemistry, physical properties, physiology and effects on metabolism. Fibre-rich whole foods that require chewing and retain much of their structure in the gut increase satiety and help weight control and can favorably influence lipid and glucose levels. The breakdown of fiber in the large bowel by the resident bacteria has additional wide-ranging effects including protection from colorectal cancer." says Professor Jim Mann.
While their study did not show any risks associated with dietary fiber, the authors note that high intakes might have ill-effects for people with low iron or mineral levels, for whom high levels of whole grains can further reduce iron levels. They also note that the study mainly relates to naturally-occurring fiber-rich foods rather than synthetic and extracted fiber, such as powders, that can be added to foods.
"Findings from prospective studies and clinical trials associated with relatively high intakes of dietary fiber and whole grains were complementary, and striking dose-response evidence indicates that the relationships to several non-communicable diseases could be causal. Implementation of recommendations to increase dietary fiber intake and to replace refined grains with whole grains is expected to benefit human health," write the authors.
"Our findings are limited to risk reduction in the population at large rather than those with chronic disease, they concluded.
Source : With inputs from Lancet