Consensus report on risk management of diabetic ketoacidosis with SGLT inhibitors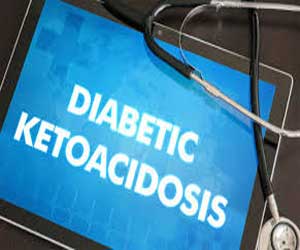 An international panel of 26 clinicians and researchers have released a consensus report on risk management of diabetic ketoacidosis in patients with type 1 diabetes treated with sodium–glucose cotransporter (SGLT) inhibitors.
SGLT inhibitors are new oral antidiabetes medications shown to effectively reduce glycated hemoglobin (A1C) and glycemic variability, blood pressure, and body weight without intrinsic properties to cause hypoglycemia in people with type 1 diabetes. However, recent studies, particularly in individuals with type 1 diabetes, have demonstrated increases in the absolute risk of diabetic ketoacidosis (DKA).
Several SGLT inhibitors are currently under review by the U.S. Food and Drug Administration and European regulatory agencies as adjuncts to insulin therapy in people with type 1 diabetes. Strategies must be developed and disseminated to the medical community to mitigate the associated DKA risk.
This Consensus Report, published in the journal Diabetes Care reviews current data regarding SGLT inhibitor use and provides recommendations to enhance the safety of SGLT inhibitors in people with type 1 diabetes.
Key recommendations:


Selecting appropriate patients for SGLT inhibitor therapy is "critical" for attenuating DKA risk.


Paramount criterion for patient selection" is normal ketone levels, defined as blood concentration below 0.6 mmol/L and negative urinary ketones, but individual patient factors, such as the ability to follow ketone monitoring regimens, must also be taken into account.


SGLT inhibitors should not be given to pregnant women with type 1 diabetes or patients using low-carbohydrate or ketogenic diets, and point out that those using an insulin pump are at increased DKA risk due to the possibility of malfunction.


It should be noted that treatment with SGLT-inhibitors in patients using insulin pumps with automated features including low glucose insulin suspend and hybrid closed loop has not been well studied.


Insulin must be reduced cautiously" when initiating SGLT inhibitors, and that the starting dose of the SGLT inhibitor should be as low as possible.


After initiating an SGLT inhibitor, they advocate ketone testing via routine patient self-monitoring of beta-hydroxybutyrate, with retesting of glucose and ketone levels every 1–3 hours in those with elevated ketones.


The experts outline a number of situations in which SGLT inhibitors should be discontinued, including when patients experience nausea, vomiting, or abdominal discomfort, and during hospitalization.


When patients are switching the type of insulin therapy – for example from injections to a pump – SGLT inhibitors should be discontinued until insulin doses are adjusted and ketone levels are normal.


Patient and clinician education is key to mitigating DKA risk. They underline that "all patients should receive thorough instruction in DKA risk factors, ketone monitoring, and treatment protocols," and that emergency departments should be "made aware that DKA can present without overtly elevated glucose levels in patients treated with SGLT-inhibitors."


Together, these recommendations should "provide a starting point for the safe use of SGLT-inhibitor therapy in this population," write the authors.
They continue: "Because much of the evidence for DKA risk has been garnered from randomized clinical trials with highly-selected patients, additional research is needed to evaluate the efficacy and DKA risk of SGLT-inhibitors in larger cohorts of type 1 diabetes patients, using real-world methodologies."
For detailed document follow the link: https://doi.org/10.2337/dc18-2316
Source : With inputs from Diabetes Care