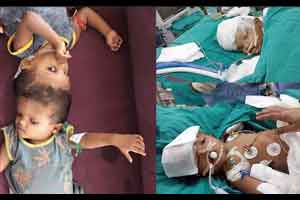 Kalia, one of the conjoined twins from Odisha who continues to be on the ventilator, underwent a plastic surgery at the AIIMS, during which the unhealthy part of the skin flap of his skull was removed.
Jaga and Kalia, who were joined at the heads, were recently separated surgically at the All India Institutes of Medical Sciences.
"Kalia underwent a plastic surgery yesterday. The debridement process was followed by skin grafting, a procedure in which unhealthy skin is replaced by the skin obtained from the Skin Bank at the AIIMS," a senior doctor at the AIIMS said.
A team of plastic surgeons from Coimbatore was also present during the operation which lasted for around two hours.
"Kalia is still on ventilator and is under observation," the doctor said.
Meanwhile, his twin brother Jaga, who was shifted out of the Intensive Care Unit (ICU) to a private ward on November 3, is recovering well.
"His oral intake has increased and he is accepting bananas and eggs," the doctor informed.
Yesterday's surgery was performed by a team of doctors, including Dr Deepak Kumar Gupta, Professor of Neurosurgery, Dr Maneesh Singhal, HOD of the plastics, reconstructive and burns surgery at the AIIMS, Dr Rajeev Sharma and assistant professor of neurosurgery.

The two-years-five-months old twins were separated on October 26 following a 16-hour-long marathon surgery at the AIIMS here.
A team of around 30 specialists from the institute's neurosurgery, neuro-anaesthesia, and plastic surgery departments performed the surgery.
The first phase of the surgery was performed on August 28 when the doctors created a venous bypass to separate the veins shared by the babies that return blood to the heart from the brain.
The twins were admitted to the AIIMS on July 13.
Doctors said that the condition, which the twins suffered from, afflicted one in 30 lakh children, of which 50 percent die either at birth or within 24 hours.
In India, two similar surgeries had taken place to separate twins joined at the head, but they were not successful as the children died during the procedure.
Read also: Condition of conjoined twins from Odisha stable: AIIMS doctor