Congenital melanocytic nevus of this big a size! NEJM case report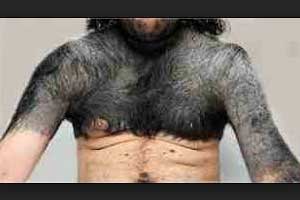 Large congenital nevi are rare and occur approximately once in every 20,000 births. Giant congenital nevi are thought to occur approximately once in every 500,000 births.
Giant congenital melanocytic nevi (GCMNs) create cosmetic disfigurements and pose risk for malignant transformation. One such case has been reported by Dr.Gangadhar Reddy and associates a real big size naevus.
A 29-year-old man presented with a headache and numbness in his right face and right upper extremity. He had a large congenital melanocytic nevus involving the chest, upper extremities, neck, and lower part of his face. He also had multiple, small, satellite nevi that had been present since childhood on other parts of his body.

MRI of the head with gadolinium showed a homogeneously enhancing tumor of the medial left frontoparietal lobe. The patient subsequently underwent craniotomy with tumor removal.

Histopathological analysis of the resected mass showed a melanocytic neoplasm of intermediate grade. Seizures and worsening of metastasis in the brain and gallbladder subsequently developed.

The patient underwent gamma-knife radiosurgery and chemotherapy and was receiving palliative hospice care 48 months after the diagnosis of brain metastasis.

Patients with large congenital melanocytic nevi are at increased risk for melanoma and neurocutaneous melanosis. Because of its malignant potential, surgical removal of such lesions in childhood should be considered.
The case is published in the The New England Journal of Medicine.
For more details click on the link: DOI: 10.1056/NEJMicm1204915