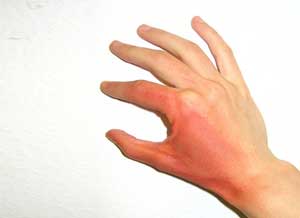 Topical Musculoskeletal Pain Relievers having combination of menthol and methyl salicylate if used in conjunction with a heat source such as a heating pad for releiving musculoskeletal symptoms can lead to side effects ranging from contact dermatitis or irritation to burn or necrosis.Use of  Topical Musculoskeletal Pain Relievers with a Source of heat may turn out to be a  dangerous combination due to increased systemic absorption according to a study.
There have been reported cases of extensive burns in skin following use of heating pads after application of   Topical Pain Relievers. There is a  reported case of localized destruction in a 62-year-old man who had applied topical methyl salicylate and menthol to the forearms, calves, and thighs, then intermittently used a heating pad for 15 to 20 minutes. He later on developed erythema and numerous 7.62- to 10.16-cm bullae, which was thought to be consistent with contact dermatitis. After three days, he was found to have full-thickness cutaneous, fascial, and muscle necrosis in a linear pattern. He was hospitalized for approximately 1 year and treated with extensive debridement and a skin graft.
The US Food and Drug Administration (FDA) released statements in 2012 regarding concern for burns related to use of OTC musculoskeletal pain relievers, with 43 cases of burns reported due to methyl salicylate and menthol from 2004 to 2010. Most of the second- and third-degree burns occurred following topical applications of products containing either menthol monotherapy or a combination of methyl salicylate and menthol.
In 2012, the FDA reports stated that the cases of mild to serious burns were associated with methyl salicylate and menthol usage, in some cases 24 hours after first usage. Typically, these effects occur when concentrations are more than either 3% menthol alone or a combination of more than 3% menthol and more than 10% methyl salicylate.
Carry home points for attending physicians-
The potential complication of burn from use of over-the-counter (OTC) musculoskeletal relievers in combination with a heat source has to be recognized.
 When encountering an atypically patterned cutaneous eruption OTC product use as well as device application should be kept in mind.
Physicians should make patient handouts that describe risks associated with use of OTC musculoskeletal relievers containing methyl salicylate and menthol ingredients so that information may be disseminated..
In children the treating physicians have to be extra cautious as fatalities have been reported with the combination of local painkiller ointment and heating.
References :