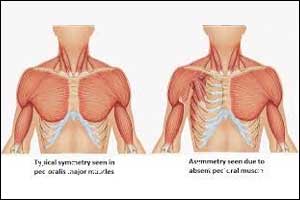 Computer-aided design (CAD) techniques can be used to create custom-made silicone implants for reconstructive surgery of the chest for patients with Poland syndrome, a rare congenital condition affecting the chest muscle, according to an article published in the journal Plastic and Reconstructive Surgery.
Poland syndrome is a rare malformation that causes varying chest abnormalities, often with accompanying malformations of the hand. In these patients, the largest muscle of the chest (pectoralis major) is absent or underdeveloped on one side, causing visible deformity. Poland syndrome is a rare disease that occurs in about 1 out of 30,000 births out of which three-fourths of affected patients are male.
The new technique provides good cosmetic outcomes and improves quality of life for patients with chest deformities related to Poland syndrome, according to the study by Jean-Pierre Chavoin, MD, of University Hospital Rangueil, Toulouse, France, and colleagues. They write, "The technique is simple, reliable, and yields high-quality results, and 3D CAD has optimized our reconstruction."
Dr. Chavoin and associates have developed an innovative, minimally invasive approach: using 3D modeling with CAD technology to create customized silicone implants. The authors proposed a minimally invasive innovative procedure for correcting Poland syndrome thoracic malformations using three-dimensional modeling. Moreover, the authors evaluated aesthetic improvement, satisfaction, and quality of life after reconstruction with a computer-aided design customized silicone implants.
The implants are prepared according to a four-step process. A thin-section computed tomography scan of the patient's chest is obtained. The digital data are used to create a 3D CAD model of the implant, "virtually correcting" the patient's chest deformity. A prototype of the CAD model is prepared using 3D machining and used to cast a rubber silicone elastomer implant.
After sterilization, the customized implant can be placed under the patient's skin by a relatively simple surgical procedure.
Read Also: Don't inject silicone warns FDA
The authors assessed the patient satisfaction in those whose implants have been made using three-dimensional computer-aided design using a standardized questionnaire, and quality of life was reported. Lipofilling was performed in combination with computer-aided design in one-third of cases, and breast prostheses were required in 24 percent of cases.

The investigators found that cosmetic results were excellent in more than 90 percent of cases, and more than 80 percent of patients were very satisfied with no significant difference in satisfaction rate between men and women. There was also a significant improvement in social functioning.
The authors concluded that correcting Poland syndrome using a computer-aided design silicone implant significantly improved the quality of life and fulfilled aesthetic and psychological demands.
For reference log on to 10.1097/PRS.0000000000004605