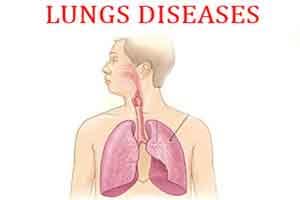 In a recent study conducted in Denmark, using nationwide, prospectively collected data it has been found that the mortality rate significantly increases in patients with rheumatoid arthritis who have interstitial lung disease compared with patients who do not. The article has been published in Annals of the Rheumatic Diseases.
Charlotte Hyldgaard et al. conducted a population cohort study that included 31,333 patients with rheumatoid arthritis. The incidence of comorbid interstitial lung disease and mortality was examined.
The researchers noted that of the patients in the cohort with rheumatoid arthritis, 2.2% had interstitial lung disease. Patients with rheumatoid arthritis who had interstitial lung disease were more likely to be older men with seropositivity.A diagnosis of interstitial lung disease before rheumatoid arthritis was made in 14% of cases.In 34% of cases, a diagnosis of interstitial lung disease was made within 1 year of, at the same time as, or within the first year after rheumatoid arthritis diagnosis.Comorbidities were seen more frequently in the interstitial lung disease group. They included ischemic heart disease, congestive heart failure, and diabetes.
It was found that one-year mortality was 13.9% In patients with rheumatoid arthritis who had interstitial lung disease (95% confidence interval [CI], 11.4% to 16.7%) and 3.8% in matched comparisons who did not (95% CI, 3.5% to 4.2%). Five- and 10-year mortality in patients with and without interstitial lung disease was 39.0% vs 18.2% and 60.1% vs 34.5%, respectively.Hazard ratio rates were higher for patients who had a diagnosis of rheumatoid arthritis before interstitial lung disease.The hazard ratio rate for mortality within 30 days of interstitial lung disease diagnosis was 10.4 (95% CI, 5.9%-18.2%).
It was concluded that interstitial lung disease is a serious complication in RA, with a significantly increased mortality compared with a large matched cohort of RA comparisons without interstitial lung disease. Mortality is particularly high during the first month after a combined diagnosis of rheumatoid arthritis complicated by interstitial lung disease and diagnostic delay may prove fatal, especially if the interstitial lung disease is already severe at presentation.It may be noted that Seropositivity does not appear to facilitate stratification of risk in patients with interstitial lung disease and rheumatoid arthritis.
For further reading log on to :
http://ard.bmj.com/content/76/10/1700
The following two tabs change content below.
Dr. Kamal Kant Kohli
A Medical practitioner with a flair for writing medical articles, Dr Kamal Kant Kohli joined Medical Dialogues as an Editor-in-Chief for the Speciality Medical Dialogues. Before Joining Medical Dialogues, he has served as the Hony. Secretary of the Delhi Medical Association as well as the chairman of Anti-Quackery Committee in Delhi and worked with other Medical Councils of India. Email: drkohli@medicaldialogues.in. Contact no. 011-43720751
Latest posts by Dr. Kamal Kant Kohli (see all)