Colonoscopy within 24 hours of acute LGIB does not offer any benefit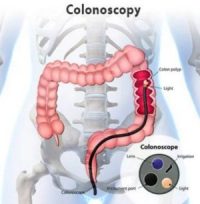 Current U.S. gastroenterology society guidelines recommend colonoscopy evaluation within 24 hours of presentation or admission in patients with high-risk or severe acute lower gastrointestinal bleeding (LGIB). Various studies and meta-analyses of the timing of colonoscopy have relied primarily on observational studies that had major potential for bias.
Researchers at Yale School of Medicine, New Haven, CT have performed a systematic review of randomized trials to determine the optimal timing of colonoscopy for patients hospitalized with acute LGIB to further analyze the available evidence. They found no benefit of early colonoscopy in this setting. Therefore elective colonoscopy performed after 24 hours and when first available should now be standard practice. The study has been published in Clinical Gastroenterology and Hepatology.
The investigators performed a systematic review and meta-analysis of the four published randomized, controlled trials of early versus later colonoscopy in acute LGIB, including two studies published in 2019. The meta-analysis showed no difference in risk for further bleeding with early versus elective colonoscopy (relative risk, 1.57; 95% CI, 0.74–3.31). Mortality was also similar between the two groups (RR, 0.93), as were rates of other secondary outcomes, including diagnostic yield, stigmata of recent haemorrhage, endoscopic intervention, interventional radiology or surgical intervention, and adverse events.
The researchers concluded that that colonoscopy within 24 hours does not reduce further bleeding or mortality in patients hospitalized with acute LGIB. Based on these findings, patients hospitalized with acute LGIB do not generally require an early colonoscopy.
The study implies that patients admitted to the hospital with acute LGIB should be hemodynamically stabilized, transfused if needed, and should undergo bowel preparation. Elective colonoscopy should be performed after 24 hours and when first available to avoid prolonging hospitalization. Performance of an elective but not early colonoscopy in hospitalized patients with acute LGIB should now be standard clinical practice, and future guidelines should incorporate this change.
For further reference log on to :
Tsay C et al. Early colonoscopy does not improve outcomes of patients with lower gastrointestinal bleeding: Systematic review of randomized trials.
Clin Gastroenterol Hepatol
2019 Dec 13; S1542-3565(19)31436-3; [e-pub]. (
https://doi.org/10.1016/j.cgh.2019.11.061
)
Source : Clinical�Gastroenterology and Hepatology