Cold water swimming as a treatment for depression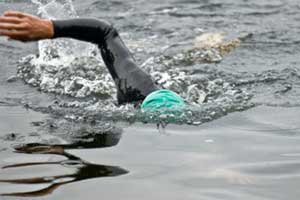 Can a swim in cold water treat you of depression?
Well, a case published in the journal British Medical Journal Case Reports indicates the same. The case in question is of a 24-year-old woman with symptoms of major depressive disorder and anxiety who had been treated for the condition since the age of 17. Symptoms were resistant to antidepressants like fluoxetine and then citalopram. Following the birth of her daughter, she wanted to be medication-free and symptom-free.
For the purpose, she was given an unusual prescription by her doctor: a weekly swim in cold water. And to her and doctor's surprise, she noticed an immediate improvement in mood following each swim and a sustained and gradual reduction in symptoms of depression, and consequently a reduction in, and then cessation of, medication. On follow-up a year later, she remains medication-free.
The patient, Sarah, was filmed as part of the BBC documentary series The Doctor Who Gave Up Drugs, presented by Christoffer van Tulleken, a doctor and researcher at University College London.
"It was a series that looked at our most prescribed drugs, particularly where there are weaknesses in the evidence for their effectiveness," said Van Tulleken. Sarah had been on treatment for major depressive disorder and anxiety since she was 17, but her symptoms were resistant to first-line treatment and the drugs made her feel as if she was in a "chemical fog."
In the report, published in the journal, Van Tulleken and his colleagues describe Sarah's experience and highlight the need for further research to establish if and how cold water swimming might work for other patients.
The body's initial response to immersion in cold water is an immediate cooling of the skin, which results in cold water shock. This can be extremely dangerous, especially for those with certain medical conditions, as it leads to a massive increase in breathing and heart rate.
For further reference log on to
10.1136/bcr-2018-225007
Source : With inputs from BMJ Case Reports