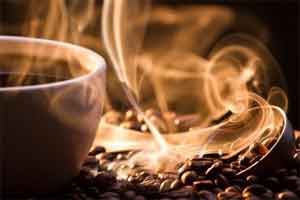 Premature cardiac contractions,  both premature atrial contractions (PACs) and premature ventricular contractions (PVCs), are associated with increased cardiovascular morbidity and mortality.
Excessive coffee intake is often considered associated with premature cardiac contractions, and indirectly with the increased mortality yet there are little data to support this association or to suggest that avoidance of caffeine will reduce or prevent arrhythmias.
Investigators studied healthy adult participants in the Cardiovascular Health Study who had baseline self-reported food frequency assessment, 24-hour ambulatory electrocardiography (Holter) monitoring, and were without persistent atrial fibrillation.
Among 1388 participants included in this analysis (46% male; mean age, 72 years), 840 (61%) consumed 1 or more caffeinated product per day. The median numbers of PACs and PVCs/hour on Holter were 3 and 1, respectively.
There is no meaningful differences in the number of PACs/hour, PVCs/hour, supraventricular tachycardia runs, or ventricular tachycardia runs across levels of coffee, tea, and chocolate consumption. After adjustment for potential confounders, more frequent consumption of caffeinated products was not associated with ectopy. As well, no relationship was noted after multivariate adjustment when considering combined dietary intake of coffee, tea, and chocolate as a continuous measure.
The investigators concluded that this was the largest study to evaluate dietary patterns and quantify cardiac ectopy using 24-hour Holter monitoring and there was no relationship between chronic consumption of caffeinated products and ectopy. They suggested that clinical recommendations advising against caffeine consumption should be reconsidered.
In other critical comments, the editorials mentioned that the findings in this research paper were consistent with other studies on the topic and with other studies that have shown, in general, a null or beneficial effect from caffeine consumption, save for some evidence that boiled coffee intake may raise atherogenic lipid levels.
References