Coffee ,Cancer Risk & Cancer warning !!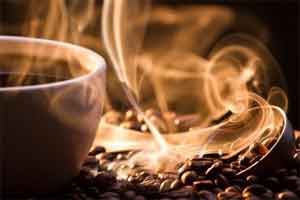 A Los Angeles judge has recently ruled that Starbucks Corp and other coffee sellers must put a cancer warning on coffee sold in California because of a chemical produced in the roasting process.Council for Education and Research on Toxics, a nonprofit group based in Long Beach sued some 90 coffee retailers, including Starbucks, on grounds they were violating a California law requiring companies to warn consumers of chemicals in their products that could cause cancer.
Epidemiologist Catherine Carpenter, Ph.D., of UCLA's Jonsson Comprehensive Cancer Center is available to discuss acrylamide, a chemical produced in the bean roasting process that is a known carcinogen.
Catherine Carpenter's research is focused on diet, exercise, and cancer, among other issues.
Quotes from Catherine Carpenter:


Acrylamide is classified as a carcinogen although no definitive studies have observed strong associations between acrylamide and increased cancer risk. A large meta-analysis has linked acrylamide to a very slight increase in kidney cancer risk and for never smokers, a very slight increase in ovarian and endometrial cancer risk.


There was an acrylamide scare in the early 2000s regarding acrylamide in fried potatoes, which died down, due to lack of evidence linking acrylamide to increased cancer risk at that time. Acrylamide is a natural by-product of cooking. In the case of coffee, it is produced during roasting. Under California's Proposition 65, acrylamide is listed as a carcinogen, and restaurants such as Starbucks are being asked to list warnings in their stores. But there is no strong evidence.


Starbucks lost the first phase of the trial in which it failed to show the level of acrylamide in coffee was below that which would pose a significant risk of cancer. In the second phase of the trial, defendants failed to prove there was an acceptable "alternative" risk level for the carcinogen, court documents showed.Starbucks and other defendants have until April 10 to file objections to the decision.
"Cancer warning labels on coffee would be misleading. The U.S. government's own Dietary Guidelines state that coffee can be part of a healthy lifestyle," the NCA statement said.
The National Cancer Institute notes that, among foods, coffee is a major source of acrylamide, along with potato chips, bread, breakfast cereals and canned black olives. But the government agency also mentions on its website that acrylamide levels in food vary widely and that "people are exposed to substantially more acrylamide from tobacco smoke than from food."
Although the results of studies are mixed, the overall evidence suggests no association of coffee intake with cancers of the stomach, pancreas, lung, breast, ovary, and prostate overall. Rather some studies have indicated that Coffee drinking is associated with a reduced risk of liver cancer.
Source : With inputs Reuters