Cobalt lung- another vaping complication reported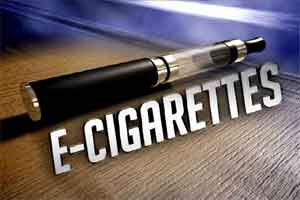 The use of e-cigarettes has increased rapidly. Although vaping has been shown to assist with smoking cessation, cases of severe vaping-related pulmonary diseases have recently been reported. E-cigarettes have been implicated in a number of respiratory problems and in some cases even causing death. The spectrum of pulmonary disease caused by e-cigarette use is currently emerging and appears to be multifaceted.
Researchers
at the University of California San Francisco have identified yet another complication of vaping. They have reported a case of a woman who developed giant cell interstitial pneumonia (a.k.a., hard metal pneumoconiosis, or "cobalt lung") after 6 months of vaping cannabis. The condition is usually encountered in workers
exposed to metals such as cobalt or tungsten used in tool sharpening or diamond polishing. The case has been published in the
European Respiratory Journal
.
Exposure to cobalt dust is extremely rare outside of a few specific industries," Rupal Shah, paper co-author and researcher at the University of California, San Francisco said in a statement.
"This is the first known case of metal-induced toxicity in the lung that has followed from vaping and it has resulted in long-term, probably permanent, scarring of the patient's lungs."
The patient had reduced lung function at presentation.when pathologists took a close look at the woman's lung tissue, it didn't look like a typical case of EVALI, or e-cigarette, or vaping, product use associated lung injury. Instead, they saw damaged cells that had engulfed other lung cells, creating giant cells — a pattern that's typically found in an illness called hard-metal lung disease.
The lung biopsy showed fibrosis and several multinucleated giant cells within the alveolar spaces.
Analysis of the device's e-liquid revealed significant levels of cobalt, supporting a diagnosis of giant cell interstitial pneumonia associated with inhaled cobalt from regular e-cigarette use.
The authors say the metal could have been released from the reservoir casing or the heating coil by the high temperatures necessary to aerosolize cannabis.
The patient improved after 3 months of mycophenolate mofetil followed by prednisone, but 30 months after diagnosis, her lung function was still impaired.
The authors conclude that "regulation of the material composition of the reservoir and heating coil in the vaporisation device should be sought" to avoid such toxic exposures.
Journal-European Respiratory Journal
For further reference log on to :
European Respiratory Journal case report
Source : European�Respiratory Journal