Treatment of pediatric patients with myelomeningocele: CNS guideline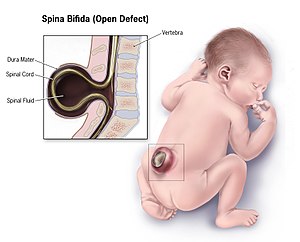 The Congress of Neurological Surgeons (CNS) has developed a guideline for the treatment of pediatric patients with myelomeningocele (MM).
Myelomeningocele, a type of spina bifida, is a birth defect in which spinal cord and backbone do not close before birth resulting in the impaired backbone and spinal cord. It affects the development and quality of life. Infants with myelomeningocele have hydrocephalus and require surgical treatment at birth to close the spinal defect. There are variations of clinical practice with regards to optimal timing of the closure of the myelomeningocele defect of the spine. In utero closure of MM is been advocated by many experts, but it has its own cons such as its limited availability.
This systematic review evaluated all available evidence to aid clinicians and guide clinical practice by determining the best options for the management of pediatric myelomeningocele. Guidelines authors aimed to systematically review the literature and make evidence-based recommendations about the timing of closure after birth and to investigate the evidence concerning persistent ventriculomegaly and cognitive impairment.
The goals of this effort were to discern the most effective strategies for a variety of myelomeningocele-related problems, including the timing and type of closure for myelomeningocele. The authors also considered the use of technical advances such as in utero or fetal closure, closure techniques, endoscopic treatment of hydrocephalus/ventriculomegaly, and other factors affecting infants and children with myelomeningocele.
These clinical practice guidelines include five clinical questions pertaining to patients with myelomeningocele and provide seven recommendations:


Prenatal repair of MM is recommended for those fetuses who meet maternal and fetal Management of Myelomeningocele Study (MOMS) specified criteria for prenatal surgery to reduce the risk of developing shunt-dependent HC. Differences between prenatal and postnatal repair with respect to the requirement for permanent cerebrospinal fluid diversion should be considered along with other relevant maternal and fetal factors when deciding upon a preferred method of MM closure.


When possible, for prenatally diagnosed fetuses with MM who meet maternal and fetal MOMS inclusion criteria, prenatal closure of MM should be performed, which may improve ambulatory status for patients in the short term (at 30 mo of age).


Long term benefit for ambulatory status with prenatal closure is unknown. Children who have had either prenatal or postnatal closure should be carefully followed for the development of tethered spinal cord with the associated loss of ambulatory function.


There is insufficient evidence to confirm that closure of MMs within 48 hours decreases the risk of wound infection.


It is recommended that if MM closure is delayed beyond 48 hours, antibiotics should be initiated.


Currently, there is insufficient data to conclude that ventricular size and morphology impact neurocognitive development.


Continued surveillance for tethered cord syndrome and/or the development of inclusion cysts in children with prenatal and postnatal closure of MM is indicated, as there is evidence that prenatal closure increases the risk of recurrent tethered cord over the baseline rate seen with postnatal closure.


"This evidence-based guideline and systematic review of the literature relevant to children with MM were accomplished in order to improve the quality of life for patients with MM," concluded the authors.
To read the complete guideline follow the link: https://doi.org/10.1093/neuros/nyz261