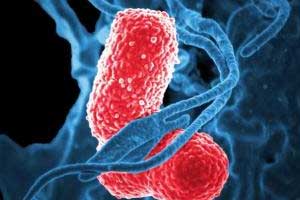 Vellore: Indian doctors have identified a rare but extremely dangerous strain of hypervirulent bacteria that may cause blindness, severe infections, and meningitis. The study published in the Journal of the Association of Physicians of India has reported that the superbug carbapenem-resistant Klebsiella pneumoniae was associated with extremely high mortality rates.
Researchers at the Christian Medical College, Vellore, have found that 27 (31 percent) of 86 patients treated for sepsis in the hospital over a two-year period had been infected by a strain of Klebsiella pneumoniae, both multi-drug resistant and hypervirulent.
Strains of K. pneumoniae can cause severe infections that spread quickly throughout the body have been reported only in China.
"Our findings establish its presence in India — we're hoping our results will make other hospitals do similar investigations," said Balaji Veeraraghavan, professor of clinical microbiology at CMC and member of the Indian Council of Medical Research's antibiotic resistance surveillance network.
The microbiologists at Christian Medical College, Vellore observed the cases of bacteremia from 2014 and 2015 and included 86 non-repetitive, first positive blood culture isolated from patients that grew carbapenem-resistant K. pneumoniae in the study.
String test was performed for the detection of hypermucoviscous K. pneumoniae and was considered positive when a viscous string of >5mm was produced when the colonies were stretched with an inoculation loop.
Read Also: Supercharged antibiotics could turn tide against superbugs
The researchers found  31.3% of the 86 isolates displayed hypermucoviscous phenotype as indicated by a positive string test which indicates hypervirulence. Among the two genotypic markers, 7% were positive for rmpA2 and all were negative for rmpA and magA. According to the authors, the absence of these genes could indicate that other genes were responsible for the hypervirulence
Moreover,74.1% and 67.9% mortality were seen among string test positives and isolates meropenem MIC of ≥16µg/ml respectively. Isolates with both string positivity and meropenem MIC of ≥16µg/ml had a very high mortality rate of 84.2%.
"It is important to monitor the prevalence of CR-hvKP [carbapenem-resistant hypervirulent K pneumoniae] among invasive isolates, as they pose a public health threat in the treatment and management of infections," the authors write. "The combination of increased virulence and decreased susceptibility to antimicrobials is very challenging to treat and hence results in worse outcomes."
Read Also: Simple urine test to diagnose bacterial pneumonia : Innovative research
The authors warrant the need for further research to define the hypervirulent strains with confirmatory markers since these strains are now seen globally. This will enable easier diagnosis and better management of the patients.
Klebsiella pneumoniae is a common pathogen and causes a wide range of infections including pneumonia, urinary tract infection, intra-abdominal infection and wound infection. Infections with K. pneumoniae are usually hospital-acquired and occur primarily in patients with impaired host defenses including solid tumors, hematological malignancies, liver cirrhosis, and diabetes mellitus. Increased and poorly regulated antibiotic use has resulted in a rise in the incidence of carbapenem-resistant K. pneumoniae (CRKp). These infections have a very high mortality rate of 30 to 44%.
For full information log on to http://www.japi.org/december_2018/02_oa_extremely_high_mortality_rates.html