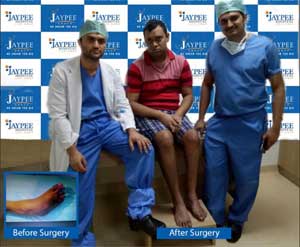 Jaypee Hospital,  Noida has  successfully treated  a rare case of clubfoot in a 25 year old adult named Vishal Kumar.  Vishal  was suffering from clubfoot abnormality since birth and  used to face many difficulties in performing his day to day activities and had to depend on others for the same. It is to be noted that there are just a handful of known cases worldwide of this condition that have been successfully treated.
Dr. Sumit Bhushan Sharma, treating doctor , explaining about clubfoot deformity said, "Clubfoot is an abnormality of foot since birth and it can cause significant problems as the child grows. But with early treatment of clubfoot most patients born with this ailment can lead a normal life. Chances of complete recovery from this congenital abnormality are higher in a young patient than in an adult. Unfortunately, due to lack of awareness Vishal's parents did not take his abnormality seriously till 25 years of his age. It was their negligence that further lead to severe complications in patient's health because of which he had to face many challenges in his day to day life".
"It is still possible to treat a patient with clubfoot up to 15 years of age but the chances of complete recovery reduce as the patient grows old. Cases in which a patient's clubfoot has been successfully treated at a later stage of his life have been rarely observed. Also, there are high chances of foot getting crooked again in such cases. Vishal's case was also one of such kinds. He was 25 years old when came for his treatment at Jaypee Hospital. It was extremely challenging to treat his deformity at such a later stage. But we were confident for his successful treatment and are pleased with his fast recovery," Dr. Sharma added.
Dr. Sumit Bhushan Sharma further informed, "Due to this ailment, Vishal's second leg also started getting infected. He got ulcers and other infections in his other leg too.  Because of this, he was also facing problems related to brain, hip and spinal cord. This abnormality caused stiffness in the muscles of his leg because of which he could neither walk properly nor perform his daily routine activities."
Dr. Sharma further explained, "Vishal was brought to Jaypee hospital after his parents got to know about the similar cases treated here successfully. The patient was treated in a three hour long surgery called as 'Trpple Arthrodesis and T A Lengthening surgery'. The surgery was a multiple stage procedure where we first treated three bones of the foot by straightening them and then fusing the bones together along with the soft tissues of the foot. Through this surgery, we wanted to achieve three things, firstly, correcting Vishal's crooked foot; Secondly, to relieve him from the pain and lastly, to correct the balance of his foot like a normal one. We are glad that the surgery was successful and the patient can lead a normal life now performing his daily routine activities by himself."
The following two tabs change content below.
supriya kashyap
Supriya Kashyap Joined Medical Dialogue as Reporter in 2015 . she covers all the medical specialty news in different medical categories. She also covers the Medical guidelines, Medical Journals, rare medical surgeries as well as all the updates in medical filed. She is a graduate from Delhi University. She can be contacted at supriya.kashyap@medicaldialogues.in Contact no. 011-43720751
Latest posts by supriya kashyap (see all)