Clip repair of tricuspid valve improves quality of life: TRILUMINATE trial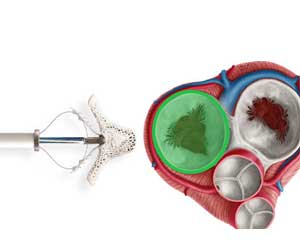 Percutaneous edge-to-edge repair on the tricuspid valve using a clip device can be a promising option for treatment of clinically significant tricuspid regurgitation, revealed new findings from the TRILUMINATE trial presented at EuroPCR.
Tricuspid regurgitation (TR) is a deadly disorder in which the valve does not close tight enough. The problem causes blood to flow backward into the right upper heart chamber (atrium) when the right lower heart chamber (ventricle) contracts. Significant tricuspid regurgitation is a progressive condition with poor prognosis. Treatment for TR is currently limited to the use of diuretics and high-risk surgical procedures. Minimally invasive clip-based transcatheter procedures could potentially reduce TR with low procedural risk.
The study aimed at ascertaining the safety and performance of the TriClipTM , a transcatheter tricuspid valve repair system which is a modification of the percutaneous MitraClip NT device used for mitral valve repair, in patients with symptomatic moderate or greater tricuspid regurgitation.
The authors conducted a prospective, single arm, multi-center study, conducted at 21 sites in the United States and Europe. A total of 85 patients with moderate or greater tricuspid regurgitation and no indication for left-sided/pulmonary valve correction were included in the study. The average age of patients was 78 years, 33% had a prior intervention on the mitral valve, and 75% had NYHA class III/IV heart failure. The authors observed that the patients were "pretty sick," with significantly impaired right ventricular end-diastolic dimensions, but preserved left ventricular ejection fraction.
Key findings of the study


High implant and acute procedural success rates (100% and 91.6%)


TR reduction of at least 1 grade was achieved in 86.6% of subjects


Significant increase in the proportion of patients categorized as NYHA class I/II


Significant improvement in KCCQ score


Safe procedure with low complication rates


The TriClipTM effectively reduced TR by at least 1 grade at 30 days with a low complication rate


Subjects experienced a significant improvement in the quality of life and NYHA functional class


The data demonstrated no risk for death, stroke, heart attack, endocarditis requiring surgery, or non- elective cardiovascular surgery.


The authors concluded that The TRILUMINATE study found edge-to-edge repair with the TriClipTM device to be a promising treatment option for patients with symptomatic severe TR
Nickenig G, Lurz P, von Bardeleben S, et al. Percutaneous edge-to-edge repair for tricuspid regurgitation: primary outcomes from the TRILUMINATE clinical trial. Presented at: EuroPCR 2019. May 21, 2019. Paris, France.