Clinical predictors to distinguish between Zika and Dengue infection: Dr Manojit Mondal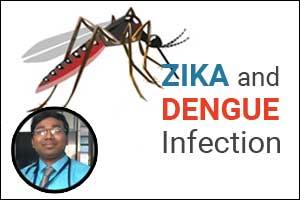 Dengue virus and Zika virus are arboviral infections transmitted by the Aedes mosquito. These viruses may lead to severe life-threatening complications. But due to similarities in clinical manifestations, differentiating Dengue virus from Zika virus is a challenging task. This two viruses may co-circulate in the environment which poses a significant challenge for the physician and health care provider to diagnose the right virus infection. A research conducted in this respect shows that 3 indicators namely conjunctivitis, platelet count, and monocyte count can reliably be distinguished between these virus infections.
Dengue virus and Zika virus infections have many clinical similarities including fever, rash, and myalgia. As most of the patients presented with these nonspecific sign symptoms, it is very difficult for a healthcare provider to reach a diagnosis.
A case-control study was done at the National University Hospital, Singapore, and the clinical information and laboratory reports were analyzed. Out of the 121 patients for the discovery study; 34 had Zika virus and 87 had Dengue virus infection. Details analysis of the study showed that the use of these 3 indices namely conjunctivitis, platelet count, and monocyte counts indeed had 88% sensitivity and 93% specificity in differentiating Zika virus from Dengue virus, with a diagnostic accuracy of 92%. The inclusion of a liver function test with these three indices did not further enhance the diagnostic accuracy.
To read details of study log on to
Source : EID Journal