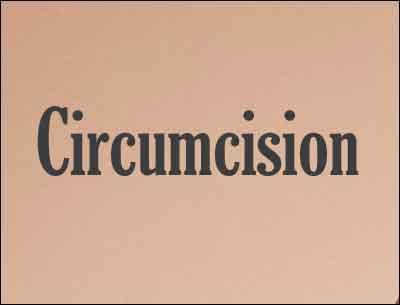 Religious male circumcision is considered a commandment from God in Judaism widely practiced in Islam and customary in Christian churches in Africa. Virtually all the current policy statements from specialty societies and medical organizations do not recommend routine neonatal circumcision.
The opponents to circumcision consider it a violation of human rights
Ministry of Health and Family Welfare, Government of India has issued the Standard Treatment Guidelines for Circusion. Following are the major recommendations :
Case Definition:
The words "circumcision" is derived from the Latin circum (meaning "around") and coedre (meaning "to cut"). Male circumcision is the removal of some or the entire foreskin (prepuce) from the penis
Medical Indications : 
In infants and young boys – true phimosis caused by BXO (Balanitis xerotica obliterans)
Recurrent balanoposthitis
Recurrent UTI's with an abnormal upper urinary tract
Phimosis may result from misguided attempt by parents to expose the glans forcibly
In adult – inability to retract prepuce for intercourse
Splitting of an abnormally tight frenulum
Balanitis
Before radiotherapy for carcinoma penis
Paraphimosis
Diabetes mellitus with recurrent balanoposthitis
HIV
UTI
Incidence :
Proportion of males circumcised worldwide vary from one sixth to a third Circumcision is most prevalent in the Muslim countries of the world
In India too, it is nearly 100% among Muslims
Prevention And Counselling
Physiological adhesion between the foreskin and glans penis may persist until 6 years of age and be mistaken for phimosis. Forcible retraction of the skin is not recommended in physiological phimosis.
At 4-5 years of age, topical corticosteroid cream may be used for 6 weeks if phimosis continues to exist.
Circumcision – is done if it is
Resistant to topical steroid therapy
If patient requires treatment for balanitis
When there is urinary obstruction due to very high prepuce
Carcinoma penis should be ruled out. When confined to prepuce, circumcision may be adequate treatment but regular follow up is necessary
Similarly chancre which may present as phimosis should be ruled out
Balanitis xerotica obliterans – normal foreskin becomes thickened and does not retract
Has increased susceptibility to carcinoma and hence requires early treatment
Treatment is circumcision
Optimal Diagnostic Criteria
Phimosis is diagnosed by inability to retract the prepucial skin
SITUATION 1:
1. PHIMOSIS: clinical features
Inability to retract the prepuce
Ballooning of prepuce (second bladder) in children
Balanoposthitis because of inability to clean the glans
2. PARAPHIMOSIS: clinical features
Retracted prepuce cannot be pulled forward; forms a tight ring and acts as constriction. Venous congestion increases with swelling of glans and can result in ulceration and gangrene of the glans
3.  History of diabetes with recurrent attacks of balanophosthitits
4.  History of bleeding and short duration of lack of retractibility would suggest carcinoma
5.  History of STD; sexual history to r/o chancre
Differential Diagnosis
1. Chancre
2. Cancer
3. Meatal stenosis (masked by prepuce)
Investigations:
Simple phimosis is a clinical diagnosis and requires no investigation for confirmation
Routine investigation before surgery such as
Blood sugar
Haemogram Urine r/m
X Ray and ECG may be done as per anaesthetic indication
Biopsy of underlying lesion if any
USG of the abdomen and pelvis to evaluate the entire urinary tract in cases of UTI
Treatment:
Medical treatment in children 5-6 years with congenital phimosis – topical steroid cream
Surgical treatment – circumcision
Procedure : 
In infant:
Applying a clamp (or bone forcepts) across the prepuce distal to the glans with blind division of the foreskin is to be condemned
Perform a proper circumcision under direct vision as in an adult
Anaesthesia –
GA – in children, infants and neonates
Dorsal penile nerve block, Ring block and / or EMLA (lidocaine/prilocaine) topical cream may be used in adults
Razmus et al reported that newborns circumcised with the dorsal block and ring block in combination with oral cucrose had lowest pain scores
Wg et al found EMLA cream in addition to local anaesthetic effectively reduces the sharp pain induced by needle puncture
In adults frenular stretch must to avoid bleeding from frenular artery
Histopathology: should be done when there is suspicion of malignancy or other associated conditions
POST OP:
Analgesic
Antibiotic: perioperative dose
Abstinence for 4-6 weeks in adults
The patient should be reviewed 5-7 days post op
Retract and clean any skin covering the glans to prevent adhesion
Complication of Ciricumcision :
Bleeding most common
Infection
Scar
Meatal stenosis
Phimosis in later life – if insufficient skin is removed in a child during the first sugery
Skind bridge formation in infants
SOP: Day care
Referral criteria:
The patient should be referred to a higher centre for treatment of associated conditions if any, such as malignancy
Patient with bleeding disorders and co morbidities may be safely operated in a higher centre
SITUATION 2:
Differential Diagnosis
1. Chancre
2. Cancer
3. Meatal stenosis (masked by prepuce)
Investigations:
Simple phimosis is a clinical diagnosis and requires no investigation for confirmation
Routine investigation before surgery such as
Blood sugar
Haemogram Urine r/m
X Ray and ECG may be done as per anaesthetic indication
Biopsy of underlying lesion if any
USG of the abdomen and pelvis to evaluate the entire urinary tract in cases of UTI
HbA1C
Coagulation profile if bleeding disorder is suspected
Treatment:
As in situation 1
Additional procedures:
Devices are available for infant circumcision – Plastibell, Gomco clamp, or Mogen clamp used together with a restraining device
1. Frenulum may need to be broken or crushed and cut from the corona near the urethra to ensure that the glans can be freely and completely exposed
SOP: Day care
WHO DOES WHAT? AND TIMELINES
Doctor
Clinical examination
Diagnosis
Planning surgery
Surgery
Post op care
Anesthesia
Nurse
Pre & post operative care
Assisting during surgery
Technician
Pre op equipment and drugs to be cechked and kept ready
Assist anaesthetist in the OT
Assist the surgeon
Resources Required For One Patient / Procedure (Patient Weight 60 Kgs)
Situation
Human Resources
Investigations
Drugs/Consumables
Equipment
1.

Surgeon -1 Medical officer/ Assistant surgeon – 1

Staff nurse – 1 Technician – 1 Nursing orderly – 1

Sweeper – 1

Haemogram

Urine analysis

Blood sugar

Antibiotics Analgesics

Iv fluids Sutures

Anesthetic drugs

Lignocaine dressings

OT Table and lights

Autoclave Instrument trolley General surgery set

Cautery

Suction

Pulse oximeter Anesthetic equipment

2.
Consultant – 1 Resident – 1

Staff nurse – 1 Technician – 1 Nursing orderly – 1

Sweeper – 1

Same as above + hbA1C

coagulation

profile

ECG

X-Ray chest

Same as above
Same as above + Plastigell / gomco / vogen clamps
Guidelines by The Ministry of Health and Family Welfare :
Dr Ajit Sinha Department of Surgery Safdarjung Hospital New Delhi