Cinryze approved for treatment of hereditary angioedema in children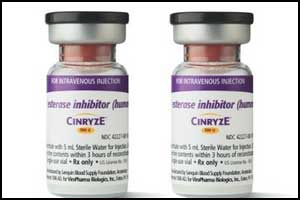 The biotechnology company Shire announced that the U.S. Food and Drug Administration (FDA) has approved Cinryze (C1 esterase inhibitor), for prevention angioedema attacks in children aged 6 years and older with hereditary angioedema (HAE). The treatment was originally approved in 2008 for adult and adolescent patients with HAE.
Hereditary angioedema is a rare, genetic disorder estimated to affect about 1 in 10,000 to 1 in 50,000 people worldwide. The condition results in recurring attacks of edema (swelling) in various parts of the body, including the abdomen, face, feet, genitals, hands, and throat that can be debilitating and painful. Attacks that obstruct the airways (laryngeal attacks) are potentially life-threatening due to the risk of asphyxiation.
The approval was based on data from a randomized, single-blind, multicenter, dose-ranging, crossover study which evaluated the safety and efficacy of Cinryze in 12 pediatric patients (7 to 11 years old). Patients received Cinryze 500 U and Cinryze 1000 U every 3 to 4 days for 12 weeks.
Compared to the baseline observational period, a reduction in the normalized number of angioedema attacks was observed for both Cinryze 500U and Cinryze 1000U (mean absolute reduction in the number of HAE attacks: 2.6, 3.0 respectively; mean % reduction in HAE attacks: 71.1% and 84.5%, respectively). In addition, both doses lessened the severity of attacks and reduced the use of acute treatment compared with baseline.
Cinryze is currently approved for routine prophylaxis against angioedema attacks in children aged 6 years and older, adolescent and adult patients with HAE. The active substance in Cinryze is C1-Esterase Inhibitor (C1-INH), which raises plasma levels of C1-INH in patients with HAE, who are prone to swelling due to an underlying deficiency in C1-INH.
Treatment with C1-INH addresses the underlying cause of HAE by replacing the deficient protein and helps regulate the production of bradykinin released during an attack. CINRYZE was the first C1-INH proven to help prevent swelling attacks in those living with HAE.
In Europe, Cinryze is the first and only C1-Esterase Inhibitor (C1-INH) therapy approved for routine prevention in children, adolescents, and adults with HAE. It is also approved for acute treatment and pre-procedure prevention of angioedema attacks.
It is contraindicated in patients who have manifested life-threatening immediate hypersensitivity reactions, including anaphylaxis, to the product.
The only serious adverse reaction observed in clinical studies of Cinryze was cerebrovascular accident. The most common adverse reactions (≥5%) observed were headache, nausea, rash, vomiting, and fever.
Cinryze is supplied as a lyophilized powder in single-use vials that contain 500 Units for reconstitution.
Source : press release