Guideline based Management of Chronic Urticaria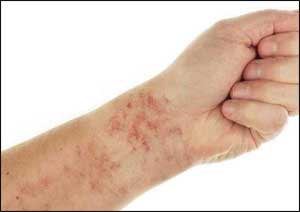 Marcus Maurer at Department of Dermatology, Venereology, and Allergology, Charité – University Medical CenterBerlin, Germany, and associates have very vividly described various aspects of chronic urticaria on the basis of an updated version of the EAACI/GA²LEN/EDF/WAO urticaria guideline published in early 2018. The article appears in Journal of German Society of Dermatology.
Key Points of Article-


Chronic urticaria is defined by the presence of pruritic wheals, angioedema or both for a period lasting more than six weeks and has a prevalence of at least 1 %.


Chronic spontaneous urticaria (CSU) is characterized by spontaneous symptoms that are not associated with a specific trigger.


Chronic inducible urticaria (CIndU)requires specific triggers for the urticarial symptoms to occur, such as sunlight, pressure, friction, or exposure to heat or cold.


Many patients have more than one type of chronic urticaria.


Chronic urticaria is associated with depression and anxiety disorders and interferes with the patient's performance in everyday life, at school and at the workplace.


Treatment is preceded by a thorough diagnostic workup and measurement of disease activity, disease burden and disease control using well‐­established tools.


The diagnostic approach should encompass (1) Rule out differential diagnoses, (2) Rule out severe inflammatory diseases and (3) measurement of disease activity and control.


The guideline recommends a two‐step approach with respect to laboratory tests for patients with CSU. In all CSU patients, initial tests should include C‐reactive protein levels and/or erythrocyte sedimentation rate as well as a differential blood count.


The current guideline endorses the urticaria activity score (UAS) and/or the angioedema activity score (AAS) to assess disease activity in CSU patients.


The urticaria control test (UCT) should be used in all CSU patients.


In case of CIndU, (1) differential diagnoses should be ruled out, (2) the diagnosis should be confirmed by provocation tests, (3) disease activity should be measured by determining the trigger threshold, and (4) disease burden and control should be measured.


The disease control in CIndU patients is assessed using the urticaria control test UCT.


Treatment is subsequently adjusted according to patient needs and therapeutic response, based on the tenet "as much as necessary, as little as possible.


All patients should avoid known triggers. In particular, this includes certain medications such as nonsteroidal anti-inflammatory drugs and relevant triggering stimuli in the case of CIndU.


Second‐generation H1 antihistamines remain the treatment of choice as they have hardly any or only mild sedative effects.


Antihistamines must be taken on a daily basis and not on demand. If continuous treatment for 2–4 weeks does not lead to adequate control of symptoms, the guideline recommends updosing (up to four times the standard dose).


If sufficient improvement does not occur after 2–4 weeks of second‐generation antihistamine therapy at a higher‐than‐standard dose, omalizumab should be added to the regimen.


Omalizumab is administered by subcutaneous injection at the recommended dose of 300 mg every four weeks.


In case of no success after six months of omalizumab therapy, off‐label treatment with Cyclosporine is recommended.


After disease control, it is recommended that intermittent attempts at medication withdrawal be made in order to identify spontaneous disease remission.


Chronic urticaria should be treated until spontaneous remission occurs.


According to Dr. D. Nashan, Dortmund, Editor of Journal of German Society of Dermatology "The treatment goal in urticaria is to achieve complete freedom from symptoms. In type 1 autoimmune CSU, IgE autoantibodies bind to the high‐affinity (cutaneous) mast cell receptor. Second‐generation H1 antihistamines remain the treatment of the first choice".


In all refractory cases, patients should be referred to a specialist.


For further reference log on to :
https://doi.org/10.1111/ddg.13531_g